You must have Adobe Flash Player to use this function.
JUNE 2009
By: Sarah L. Myers
Editor-In-Chief
---
It's my favorite New York City bar, my favorite New York Dolls song, and now it's my favorite way to get trashed.
There's a debaucherous air in NYC right now. The weather's hot, everyone's out, and I'm still pumped from the Joey Ramone Birthday Bash. Time to check into the Chelsea!! Enjoyed my paper and coffee from my balcony, taking in 23rd street as its reflected off the old-as-dirt Chelsea sign. Thinking of Dee Dee. Thinking of all the notes and scribbles I've left all over this hotel since I first started coming to New York. Still has the spirit, still talks back, still the Chelsea!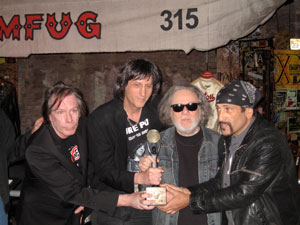 (left to right) Legs McNeil, Mickey Leigh,
Tommy Ramone, Dick Manitoba

It was an honor finally done right at Joey Ramone's Rock n' Roll Hall of Fame re-induction ceremony May 14th at the Hall of Fame Annex in Soho. Initially inducted with The Ramones in 2002, Joey received new praise from brother Mickey Leigh, author Legs McNeil, Tommy Ramone, Handsome Dick Manitoba, and legendary manager Danny Fields. Friends like Bob Gruen, Bebe Buell, Leee Black Childers, Jimmy Webb, and John Holmstrom all mingled upstairs before landing in a very familiar place - under the awning of CBGBs, now on permanant display in the museum. Joey woulda loved it.
Friends and family filled Bowery Electric June 7 for the release of "Poisoned Heart", the story of Vera and Dee Dee Ramone. Mickey Leigh, Marky Ramone, Bob Gruen, Bebe Buell, Danny Fields, Jeff Magnum, and Jimmy Webb all mingled as Vera signed copies and the back room became a dance hall as Ramones music played. Best part of the night - laughing outside with Danny Fields and sharing a dance with Jimmy to Iggy's "China Girl". A perfect New York night honoring one of New York's punk heroes.

"I'm just lookin at the city like everyone else does, but not everyone else sees what I see."
Brooklyn-born Neckface is one of the baddest, truest street artists in the world. He's Thirsty. He's one of us. Having just moved to New York City, I'm seeing his tags everywhere. Check this one out, from Spanish Harlem. What else does this month have in store? X at the Bowery Ballroom, Bebe Buell's single release party, and the annual Coney Island Mermaid Parade featuring Thirsty friends from the Circus Sideshow!
Until then...

Links: