You must have Adobe Flash Player to use this function.
By: Brian Lepire
Boston, MA, USA
---
Justin Townes Earle seemed frazzled, hassled, annoyed standing outside of a Boston nightclub. He was set to take the stage in a few minutes and was passing the time ripping cigarette after cigarette. There was car trouble on the ride from his Brooklyn apartment and that was just one of the problems plaguing him that night.

Justin Townes Earle
(photo credit: Joshua Black Wilkins)
---
Walking into the small but packed venue this past May, reporters tried to ask him questions. Fans stuck their hands out, hoping to talk to the 27-year-old burgeoning alternative-country/folk star. Some most likely mentioned his father Steve, the infamous country music badass. Others probably said the younger Earle was their favorite new country artist. Justin Townes Earle doesn't like to pigeonhole his music as "country".
Earle downed two cups of coffee in twenty minutes, stepped out for one more cigarette, and then made his way to the stage. As the six-foot something, gangly ball of tension stepped into the spotlight, there was a change. All the worry that marked his face disappeared and, as he put his guitar strap on and faced the crowd, he smiled.
The next day he described the transformation over the phone.
"Well it's all kind of the fantasy, isn't it? It's, uh, it's that one point in my day where… I feel flawless, where everything's right. It's just that one point in my day when I don't have to worry about anything else except these people in front of me. And I know what they're there for, so there are no surprises."
It was evident Earle knew what his audience wanted that night in Boston. There were no flashing lights, no large backing band, no bouncers standing between him and the crowd. Just the musician, his guitar, his songs, and a love for what he has been doing for the past 13 years. Earle was charming and funny. He told anecdotes and explained the meanings behind certain songs off of his new sophomore full-length record, Midnight at the Movies.
As he readied to play "Someday I'll Be Forgiven for This", a confession that a young man had been cheating on his oft-absent girlfriend, Earle made his own confession.
"I wrote this song to hurt someone," Earle admitted. "It worked. I can be surgical with my writing sometimes."
Earle's solo performance in Boston was a success, but most often he performs in a duo, with collaborator and friend Cory Younts backing him up onstage with guitars, mandolins, fiddles and whatever else is required of Earle's far-ranging, self-taught style.
"I do enjoy playing with a band, but with Cory it's kind of…it makes it a lot easier because Cory and I have been playing together more than anyone in my band," Earle explains via telephone. "It makes it a lot easier. We communicate well. We can just fall into it. We never have to warn anybody (about what we want to do)…because we've been singing and playing together for 10 years. You know, it makes it real nice."
Earle says having that kind of connection with a band mate helps because of his own musical training, or lack thereof.
"I know no music theory AT ALL," Earle said. "Everything I've learned, I've learned from records and noting it out, so playing with me is not the easiest thing, especially when you're a learned musician. You aren't going to get '1-4-5, half-time shift' from me. You're going to get 'Follow me'."
It's that "Follow me" attitude that kept Earle's Boston audience enthralled. He constantly moved across the small stage, entwining his body around every note from the guitar. His smoky eyes moved as well, shooting charisma at whatever audience member was caught in his glare. Usually it was directed at a beautiful female, but for the most part he looked at those having the most fun.
He traded quips as well. A pair of young men, pleasantly intoxicated and enjoying the show, shouted for more people to clap the rhythm parts with them.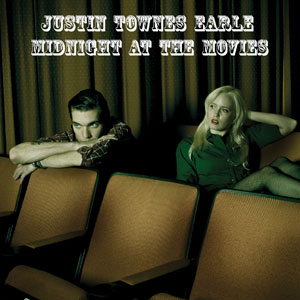 Midnight At The Movies
---
"Not enough people are clapping," they told Earle.
Earle smiled from the stage, told them "sometimes even Cory can't follow my rhythm", and began playing a blues cover.
The pair disappeared half-way through the song. Earle found out after the show they had been escorted out.
"The two guys who were sitting to my right who got thrown out last night, I made sure they got my contact information and I'm going to make sure they get on the guest list the next time I do a show in Boston," Earle said. "If I had seen that done I would have stopped it."
Earle relates with his fans and audience so well because he's first and foremost a music fan. During the night in Boston, he played a few blues tunes by Mace Lipscomb and Lightnin' Hopkins. There was a Buck Owens tune, as well as a Townes Van Zandt song. (It's from the Texas singer-songwriter that Earle's father, a student of Van Zandt's, got the young musician's middle name.) Earle also performed the only cover on either of his records; a slow-downed version of The Replacements "Can't Hardly Wait". Considering all the songs in Earle's repertoire, covering the Minnesota-based punk band seems an odd choice.
"The Replacements were a lot more than just a punk band," Earle explained. "They were one of those bands...they had the punk sound and attitude early on, but what separated them was you could really hear the roots of American music in them. And they were great songs. Great songs can be played anyway that you want to. They should be able to be done in any fashion."
There are plenty of great songs on the new album that are distinctly Justin Townes Earle. While his first full-length record, The Good Life, showed what his influences were, the new album is produced to let Earle's own talent as a singer-songwriter take center stage.
"When we were getting ready to make this record, everyone was telling me about the big scary sophomore album curse, but it just didn't bother me," Earle said. "I just went in there and did the record I had written and the record I was ready to make."
You must have Adobe Flash Player to use this function.
Everything about Justin Townes Earle shows he is ready to do what it takes to achieve what he wants.
As Earle's show in Boston winded down, reality began to creep back in. When he stepped off the stage, Earle was going to have to deal with the problems again. Instead of delaying the inevitable, he played a few extra songs, letting the audience know that there would be no encore. When he got out of the flood lights, he would be heading for the door. That one point of the day when everything seemed alright would be over. Earle would chug another coffee, smoke another cigarette and take on the next challenge ahead of him.
Links: