You must have Adobe Flash Player to use this function.
MAY 2009
By: Sarah L. Myers
Editor-In-Chief
---
Exhibition:
May 6 - August 9, 2009
---
It's my favorite New York City bar, my favorite New York Dolls song, and now it's my favorite way to get trashed.
Dorian Leigh was a supermodel before there was such a term. The 1940s Ford model may have been the real Holly Golightly, and similar ingénues are profiled as the Metropolitan Museum of Art unveils its "The Model as Muse" exhibition. When photographer and model collide, great moments are captured. Linda Evangelista ushered in Liz Tilberis' tenure at Bazaar, courtesy of the great Peter Lindbergh; Arthur Elgort showcased Nadja Auermann in austere black and whites; and Mario Sorrenti brought us a lovely, fresh faced Kate Moss. I love this supermodel revival. Before the Internet, before blogs and tabloid magazines covered their every move, supermodels were mysterious creatures. Only the very best still are. For this exhibit, the photographs speak a thousand words.

There are few things I love more than visiting Jimmy Choo. The blush-and-pink colored furniture, carpets, and mirrored stools all lend to some sort of disco boudoir motif, and the smell of leather is intoxicating. I snuck a peek at the new Hunter for Jimmy Choo collection and immediately pictured Kate (Moss again) splashing around Glastonbury in croc-embossed Wellies. The pieces include rain boots, pumps, and Choo's signature stiletto heel boots, all at a very feasible price point. I fell in love with the 1970s Masai-inspired "Kiki" and "Kaja" bags. The Hunter collection launches in June.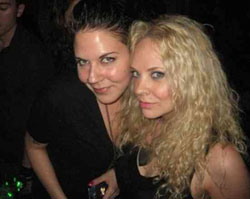 Jordi Scott and Sarah
---

It was an 80s revival at the "Rock of Ages" opening night party April 7 at the Edison Hotel in Manhattan! I spotted Jimmy Webb and SPW's Justin Tranter all hanging inside the dark-lit velvet party, which spanned two floors and two open bars. The crowd went nuts for a performance by Night Ranger, and went completely insane once Journey took the stage near the end of the night. Your esteemed editor and crew held court in the upper balcony, sending napkins down at the crowd during "Don't Stop Believing". Constantine Maroulis, the "Rock of Ages" leading man, closed the night with a performance with his band, January Jane. From the balcony I could see Jimmy rocking out in the front row. Just another great night in New York City.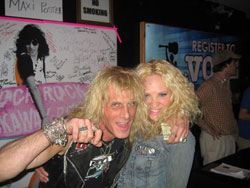 Jimmy Webb and Sarah
---
If it's May, and you're in New York City, that means it's time for the annual Joey Ramone Birthday Bash! Thirsty has been there for the last two years (June 2007, June 2008) and nothing compares to this amazing night - when fans from all over the world come together to celebrate the life of our beloved Joey Ramone. Held on Joey's birthday, May 19th, at New York's Irving Plaza, this year's lineup includes Fishbone, Supersuckers, Bebe Buell, Uncle Monk featuring Tommy Ramone, and an all-star closing jam with brother Mickey Leigh. We'll be there again this year - check out next month's issue for interviews and full coverage! Gabba Gabba Hey!
Stopped into Trash and Vaudeville to see Jimmy, who's heading out to LA this month to visit Slash and wife Perla, and hang with designer Agatha Blois. If you recall from our video interview with Jimmy, Agatha hand makes all of Jimmy's unbelievable leather pants and vests. He'll be back just in time for the Joey Ramone Birthday Bash! Also on my radar this month - Justin Tranter's line of jewelry is now in Barney's, and SPW necklaces can be found at Urban Outfitters! Grab them today and be "fucking gorgeous."

Links: