You must have Adobe Flash Player to use this function.
By: Michael Lara
Tokyo, Japan
---
"I was there in the back stage, when the first light came around..."
Well, the first light came for FUJI ROCK® in 1997 and for SUMMER SONIC® in 2000 respectively with each gaining massive strength and international weight ever since. Both meticulously well organized and situated dramatically differently, these two behemoths, like all classic relationships, are deeply steeped in mutual respect as both friends and foes while serving up music and more for the masses.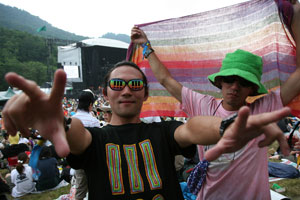 Fuji Rock Festival 2007 (photo credit: Michael Lara)
---
As the undisputed top international promoters in Japan, both SMASH® (www.smash-jpn.com) and CREATIVEMAN® (www.creativeman.co.jp) wholly know and nourish their craft very well as do their loyal collaborators. With 2009, SUMMER SONIC's ® 10th anniversary, the inevitable has finally materialized-both of these most prestigious Japanese festivals are going equally head to head as full 3-day festivals as prior SS's were before their usual weekend-only affair as FUJI ROCK® was only in its first 2 years of life.
Whilst FRF is akin to its UK Godfather, the legendary Michael Eavis produced Glastonbury® (www.glastonburyfestivals.co.uk), SS is likened to Carling's ® Reading Festival® (www.readingfestival.com). Each serving its purpose in full, I have had the fortunate pleasure of seeing both Japanese offspring unfurl in their blossoming glory since 2000 and wholly recommend hitting both if you can afford the time and expense for your steady life. Well worth it in my books.
For those seeking a surreal Sound Of Music landscape in sound and vision beyond, Masa Hidaka's FUJI ROCK ® is the crystal clear choice with a breathtaking view and commune to savor and digest in all its robust flavors daily over 4 days, complete with a river runs through it. While some will opt for hotel arrangements, many select the most affordable accommodations made possible through camping tickets at 3,000yen ($31USD/23EUR), valid from Thursday (12 noon) to Monday (12 noon) with showers, toilets, wash basins and a barbeque area at its base entrance provided. This festival runs officially from Friday-Sunday, but actually starts Thursday evening, something I learned from my inaugural outing in 2000 when I turned up on Friday morning and found out I had missed out from the night prior. From 2001 onward, I made sure that'd never happen again.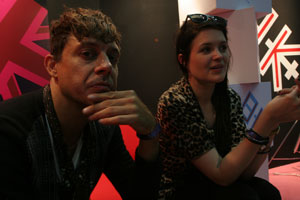 The Kills - Summer Sonic Festival 2008
(photo credit: Michael Lara)
---
Whilst the hills and mountains in Niigata are wholly communally alive with over 100,000 Fujirockers ® cavorting over the great expanses of such a sprawling site, the streets of Tokyo and Osaka are equally so with its dedicated SUMMER SONIC ® disciples. Launching at Fujikyu-Highlands in 2000 then moving to its current home in Chiba and Osaka in 2001, 2009 marks its 10th anniversary and its expansion to a 3-day event to equalize alongside FRF ®. Catering to those either not dreaming of wilderness tomfoolery and/or desiring to stay closer to home in either Tokyo or Osaka, SUMMER SONIC ® provides a most savory option with its two convenient urban locations.
No matter which you choose or both, it is clearly a win-win situation, but do know that preparation is key, especially if coming from abroad as cut-off dates for overseas ticket purchases are critical to adhere to for each festival. With their increasing growth and international popularity, both Smash® and Creativeman® have kindly made adjustments in greater accommodations to those making the international pilgrimage whom want to savor their passions. Alas, one still needs to be careful on not only these deadlines, but as well as ticket sales as they do sell out. Simply put, do not hesitate and get on it if you are keen to sample either or both fares-something that you will be glad you did. Important to know, each respectively offer single day tickets (limited in amount though) as well as 3-day ones. FUJI ROCK® comes out as 16,800JPY($172USD/129EUR) and 39,800JPY ($406USD/306EUR) while SUMMER SONIC® has a slight differences between its Tokyo and Osaka sites. Friday dates are 14,000JPY($143USD/108EUR) for Tokyo and 13,000JPY($133USD/100EUR) in Osaka while the weekend days bump it up 1,000JPY. Tokyo 3-day passes run 39,500JPY ($403USD/304EUR) as Osaka goes for 37,000JPY($378USD/285EUR).

Fuji Rock Festival 2007
(photo credit: Michael Lara)
---
Whether you ultimately choose to digest your music at sea level in the city or high in the mountains, OASIS, NIN, WEEZER, CSS, PEACHES, MY CHEMICAL ROMANCE, KLAXONS, PUBLIC ENEMY, THE SPECIALS, BASEMENT JAXX, M83, THE SPECIALS, ROYKSOPP, GOGOL BORDELLO and countless others and so much more gloriously await you in Japan in making summer 2009 one for your history books, chock full of legends that demand you to go-go-go and join their joy divisions.
Next month: FUJI ROCK ® & SUMMER SONIC ® Day 1 artist and festival attractions previews plus FRF & SS essentials checklist.
Until then, gather much more from below:
FUJI ROCK® (7/24-7/26/09) @ Naeba Ski Resort, Niigata:
http://www.smash-uk.com/frf09/lineup.html
http://www.smash-uk.com/frf09/ticket_overseas.html
http://www.smash-uk.com/frf09/about_general.html
http://www.smash-uk.com/frf09/guide_access.html
http://www.smash-uk.com/frf09/guide_accom.html
http://www.smash-uk.com/frf09/stages.html
http://www.smash-uk.com/frf09/history_08.html
http://www.smash-uk.com/frf09/news.php
SUMMER SONIC® (8/7-8/9/09) concurrently held @ Makuhari Meese/Chiba Stadium, Tokyo & @ Maishima, Osaka
You must have Adobe Flash Player to use this function.
http://www.summersonic.com/09/lineup/
http://www.summersonic.com/09/english/
http://www.summersonic.com/09/tickets/
http://www.summersonic.com/09/access/
http://www.summersonic.com/08/