You must have Adobe Flash Player to use this function.
APRIL 2009
By: Sarah L. Myers
Editor-In-Chief
---
It's my favorite New York City bar, my favorite New York Dolls song, and now it's my favorite way to get trashed.
In this edition of Trash, your editor ups and moves to New York City. In the words of the great Karl Lagerfeld, "Posessions are burdensome."

I love him, but he's just too expensive. That all changes with Alexander McQueen's accessible new line for Target. The chain picked up McQueen as next in line for its designer series, and so far the pieces look cool and land in the $60-$80 range. That's one to cross off my wish list. Please let Henry Holland, Rodarte, Blumarine, and Betsey Johnson be next!
Thirty-some years ago the New York Dolls, with Todd Rundgren at the helm, recorded the most amazing debut album ever. Now my sources tell me the band is set to do it again - the band just recorded new material, produced by Todd, and are gearing up for a spring release! "Cause I Sez So" lands May 5.
Stage dive into spring with the Jägermeister Music Tour! Jägermeister is teaming up with legendary American punk band, Pennywise and dub rock trio, Pepper for this year's spring Jägermeister Music Tour. The tour kicks off on April 13th in Seattle, Washington.
Beijing duo WHITE release their groundbreaking debut next month. Produced by Blixa Bargeld of Einsturzende Neubauten, the band stands to reinvent the musical structure, just as their producer did with EN. Check out our exclusive interview with Thirsty hero Bargeld from 2007.
Thirsty's great friends, th' Legendary Shack Shakers are back in Nashville to record their new record, titled "Agri-Dustrial"! Word is it's the best record yet. The band hits the western U.S. this spring. We've been with these guys since Thirsty's 2006 launch- check out all of our coverage here: (Dec. 2007 Interview, "Seven Signs" review)
Primal Scream brought their otherwordly brilliance to Chicago March 22 for a truly amazing, once-in-a-lifetime performance. Classics like "Movin on Up" and "Country Girl" brought huge singalongs and "Higher Than the Sun" was downright mindblowing- green beams and strobes eclipsed the band, backed by fog machines and echoed within samples and backbeats. My ears were still ringing at 3am- not long after I left backstage, where I hung with legendary Mani (left), chatted with frontman Bobby Gillespie (center), and watched guitarist Barry (right) befriend a very young superfan who drove for five hours for the gig. What wonderful people and what an unforgettable night.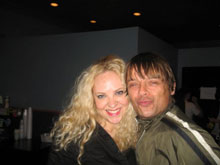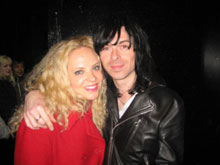 Sarah (left), Bill Moseley (right)
---
Horror movies go hand-in-hand with rock' roll (just watch "Trick or Treat") and no one merges the two better than Rob Zombie. Fangoria's Weekend of Horrors hit Chicago in March, and I had to check it out. After a Q and A with zombie god George Romero, I spoke with two actors from one of my favorite horror films - "House of 1000 Corpses". Tom Towles (Sheriff Wydell) told me Zombie is all set to make "Halloween II", and promises it will be nothing like the first. Bill Moseley (Otis Driftwood) gave me a CD of his band Cornbugs, featuring Buckethead on guitar! Can't wait to see what happens next in this horrific franchise.

The genius of Jack White continues. The Dead Weather, a group consisting of Alison Mosshart from The Kills, Jack Lawrence of the Greenhornes and Raconteurs, and QOTSA's Dean Fertita are now recording in White's Third Man studios in Nashville. The track, "Hang You Up from the Heavens" is just a taste of what's next, and its as raw as you might expect from every brilliant member of this band. Check it out here: thedeadweather.com
Also on my radar this month: The Strange Boys and their swirling 1960s guitars, and Pete Doherty's new "Last of the English Roses". One of rock n' roll's true poets.
Lastly, I'm giving my final send off to Chicago with a visit to the Hideout- that tiny wood-paneled venue hidden amoung the warehouses on Wabansia - for "The Jackhammer". For five bucks you get a shot of Jack with a side of Hamms.
So long, Windy City!
Links: