You must have Adobe Flash Player to use this function.
By: Michael Lara
TOKYO, JAPAN
---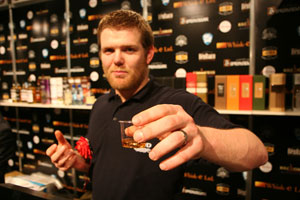 Peter Currie, Springbank Distillers Ltd
Photo by Michael Lara (click to enlarge)
---
February 22nd, 2009 - Tokyo Big Sight, Odaiba
"Well show me the way to the next whisky bar. Oh, don't ask why. Oh, don't ask why. For if we don't find the next whisky bar, I'll tell you we must die. I'll tell you must we die. I'll tell you we must die. I'll tell you we must die." Well, nobody has this dilemma here in Tokyo where this spirit and any for that matter work as a daily social lubricant in this city. Far beyond 2003's 'Lost In Translation' that made "Suntory time" a popular drink phrase, the 9th annual WHISKY Magazine LIVE! event ensured all participating stumbled back to the station with Betrolt Brecht and Kurt Weill's classic immortalized by the Lizard King firmly replaying in their heads.
In its 9th installment, this morning to dusk event, the largest in the world, held its own and more with this most renown spirit being heartily represented by distilleries, producers, bottlers and importers from Scotland to well across the other side of the globe in India. With main sponsor Scottish Development International at the helm of this ship, those who partook in the all day affair were given a rich, diverse global education. For a mere 5,000 yen (roughly $51 USD, 39 EUR, 36 GBP), the who's who of distillers endlessly and generously poured sample shots to all upon reaching their respective booth bars. With water coolers and various snacks provided throughout the Big Sight venue to ensure that one was kept in fair equilibrium, regular announcements from both Inter FM deejay Guy Perryman and singer Mari Stone smartly reminded all to hydrate and take food while imbibing all these tasty top shelf spirits. Despite these adequate warnings, we still had some "pipers" down.
All Photos by Michael Lara
(click to enlarge and view captions)
As with all in life, delightful surprises abounded. Between Blackadder International's surprising Bangalore India whisky, Springbank's exceptionally smooth Japan-only sold Small Cask ® bottles as well as UK chasers Brew Dog ® and local Yona Yona ® Ale and its Yonosato Brewing Company cousin Tokyo Black ®, education could never be more pleasing. And if not enough, live entertainment from jazz chanteuse Naomi Grace and a bagpipe meet didgeridoo and drum trio, whisky cocktail demonstrations as well as hourly panels and seminars held by industry leaders, this global conglomeration endlessly and flavorfully had all senses working overtime.
SPECIMEN's driving magnetic "Kiss Kiss Bang Bang" best describes the sheer inspiration registered after such a full-on experience. Next year's 10th anniversary guarantees exponential fun not to be passed.
www.sdi.co.uk
www.whisk-e.co.jp
http://en.wikipedia.org/wiki/Whiskey
www.suntory.co.jp
www.brewdog.com
http://www.yonasato.com/main.html
www.whiskymagjapan.com/wmj/
www.whiskymag.com
www.adelphidistillery.com
www.blackadder.com
www.shinanoya.co.jp
www.40beersontap.com
http://en.wikipedia.org/wiki/Bertolt_Brecht
http://en.wikipedia.org/wiki/Kurt_Weill
http://en.wikipedia.org/wiki/Tennessee
http://en.wikipedia.org/wiki/Kentucky
www.guyperryman.com
www.interfm.co.jp
http://naomigrace.com/
http://en.wikipedia.org/wiki/Specimen_(band)
http://www.myspace.com/specimenofficial