"Bermel" - eighth blackbird
---
The Harris Theater at Chicago's Millennium Park played host to a unique concert where world-renown The Hilliard Ensemble joined forces with Chicago's eighth blackbird to pay tribute to the compositions of Stephen Hartke. Bringing together two touring ensembles to perform compositions specially written for them by Hartke, who was in attendance, was a moment in time that shone a bright spotlight on cutting-edge contemporary music. The Hilliard Ensemble, nominated for a Grammy Award in 2005, is best known for their recordings of early music, and travels almost non-stop bringing their extraordinary voices to audiences in the US and Europe. eighth blackbird, the 2008 Grammy Award-winning contemporary music sextet, spends part of their time in residence at The University of Chicago and has traveled the globe performing their special brand of chamber music. Stephen Hartke, widely recognized as one of the leading composer of his generation, is currently a Distinguished Professor of Composition at the Thornton School of Music at the University of Southern California. He has received, among many other awards, a Guggenheim Fellowship in 1997, the Charles Ives Living Award from the American Academy of Arts and Letters in 2004, and the Charles Ives Opera Prize from the American Academy of Arts and Letters in 2008. Thirsty was fortunate to catch-up with Stephen Hartke, David James of The Hilliard Ensemble and Tim Munro of eighth blackbird after the performance.
Thirsty: Why did you decide to devote a night to profiling Stephen Hartke?
Tim Munro (eighth blackbird): Well, we first worked with Stephen Hartke...I was not in the group then...I joined the group two and a half years ago...but the group did a performance of that last piece, Tituli, in Chicago maybe four or five years ago. That very much piqued our interest in his music because it is just such a beautiful piece. And, it runs the gamut from just sublime and very moving, almost romantic to a quite tense sort of setting. It's a really interesting piece. And then we actually ended up programing another piece of his trio for clarinet, violin and piano which was the second piece you heard tonight. And once we did that, we decided it was too good an opportunity not to commission him to write us a piece for the whole sextet. And so he did that and that's the first piece of the concert.

Stephen Hartke
---
You must have Adobe Flash Player to use this function.
So we sort of created a concert program almost naturally and last year we did the same the program but with a different group of singers. And, of course, the next thought we had was well wouldn't it be just the most amazing thing in the world if we could get The Hilliard Ensemble to come here. And, we thought that was never going to happen in the whole world, but crazily enough we contacted their manager and the date seemed to line up and so we made it work. It's crazy. As to why we would devote an evening's music to this nutty bloke...his music is so diverse and, as he himself said, it sort of picks pieces out of everything and it creates such diversity that it makes an evening concert interesting.
Thirsty: What was the motivation for the two groups to collaborate in this performance?
David James (The Hilliard Ensemble): We were approached by eighth blackbird to come and join them for a performance of Tituli because we are very fond of the piece. But it's a rather unusual lineup. There are not many pieces for five singers and two sets of marimbas.
You must have Adobe Flash Player to use this function.
And so there are not many opportunities to perform it and when they approached us, of course, we jumped at the opportunity because we love doing it and don't sing it very often. We also heard, we say in English "by the grapevine", that this group here was rather good...quite impressive. What did scare us was someone told us that they did everything by heart without music. Now did sort of shut us down...are they expecting us to do this from memory because that would be a feat. It's quite a feat in a language that we don't normally speak. It would be rather difficult. As it happened, they allowed for us to use the music so it was great.
You must have Adobe Flash Player to use this function.
Thirsty: This piece tonight, Tituli, is very different from much of the early music that you have recorded?
David James: Oh, it is, yes. Contemporary music is taking different shapes and forms. This is certainly very different. And Stephen has also written an a cappella piece for us called "Cathedral in the Trashing Rain" which we think is fantastic. We perform it a lot. It's very well written for the four of us. And this is a development from that. Then we take part in a symphony that he's written. That's yet another stage further. It's all very interesting and challenging for us.
Thirsty: You did a CD with the "Cathedral in the Trashing Rain"?
David James: It is with Tituli. It's on the same CD. The two pieces. Yes. And, they're very different. What we like about Stephen's music... he thinks so hard about the text. He starts from the text which for us is extremely important. Stephen you know has spent a long time researching the text, the words and comes up with an idea and says that's something that I'd like to set to music And so it starts very well. It appeals to us because we feel the text words. We are largely singers, not instrumentalist, and we do have text - something to actually say. The text just drives the music. And, that 's what I think Stephen's music always does. It's not music driving the text - the text starts it and the music comes out.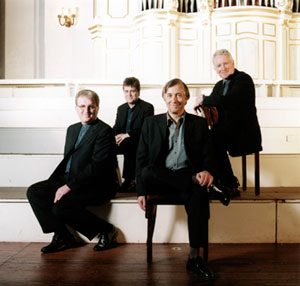 The Hilliard Ensemble (photo: Friedrun Reinhold)
---
Stephen Hartke: The text is tremendously important. I don't expect anybody to understand the Latin. I studied the text very closely especially the syntax which in some cases actually grows the structure of the piece. There are certain verbs that pop out of the text in odd places. So that means those verbs, when they explode, then you have clauses and clauses and then another verb, etc., etc. I like to respond to that aspect of it.
Thirsty: When you write a composition do you have a particular group in mind?
Stephen Hartke: I prefer to if at all possible. Actually it's very hard to write for a group that I don't know personally. And, in fact, the second piece that I wrote for The Hilliard Ensemble, I didn't put voice categories I put their names. And then when I was writing for eighth blackbird, I knew them personally, it made a huge difference.
Thirsty: Does The Hilliard Ensemble principally record early music?
David James: It's a misconception about our image. But totally understandable because, of course, a majority of people relate to a group of recordings they see. And, understandably, most record companies are quite nervous or reluctant to record much contemporary music. So most of our recording have been early music. In fact, I'd say it's about 50%, literally half, has been new music written specifically for us during the last twenty to thirty years and then the balance is old music. Even our very first concert for The Hilliard we had, well not a new composition, but a piece by Benjamin Britten who is at least 20th century. So I would say we're half and half exactly.
Thirsty: The music industry is undergoing a radical change. Have you noticed any impact on the audiences? Is the marketplace shrinking or is there still a vibrant audience for what you do?
Stephen Hartke: I don't think it's shrinking. When I think about the availability of contemporary music when I was coming up as a student, there really wasn't anything. Today the proliferation of music is really quite astonishing and also it's so well played.
You must have Adobe Flash Player to use this function.
I think there are things in our music that we just have to be reconciled with because we're never going to be screamingly popular. But then jazz isn't popular either. We think of jazz as popular. We think of it historically as having been America's music for a time, but the fact is from record sales jazz and classical are at parity. So we don't worry too much about being popular...about making a lot of money. I didn't go into this business to make money and you know that I really kept to that goal.
Thirsty: In the "Meanwhile" piece, you created an instrument that is played at the very beginning. Do you create instruments frequently?
Stephen Hartke: I've done it more often than I think because there are quite a number of pieces where you have to rent the instrument along with the music itself just as there are some certain kinds of sounds that I want. The symphony that I wrote for The Hilliard Ensemble has percussion instruments, that while I didn't invent them, they are rare enough that I have to provide them to the orchestra.
Tim Munro: And that's one of the great things about Stephen, he has such attention to detail. He actually provided us also with...because there's a moment where piano strings are muted using a sock filled with BB pellets...two socks filled with BB pellets and so carefully and clearly weighed in and worked out. In another moment, the piano's actually masked by pressing a squeegee, like a printer's squeegee...
You must have Adobe Flash Player to use this function.
Credit: Cedille Records
Stephen Hartke: Silk screening...
Tim Munro: ...silk screening squeegee on the strings. But so vividly and detailed and described exactly what has to happen in the preface of the score. It's true that he's inventing these things, but he's not just wildly throwing things out there. He works specifically and quite hard to refine the sounds of these things and it is what makes it incredibly gratifying to play this.
Stephen Hartke: Because there's no point if it doesn't work. There's no point in coming up with a crazy idea if it doesn't work. I can't stand it.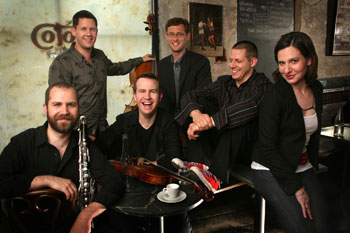 eighth blackbird (photo: Luke Ratray)
---
Thirsty: Do you feel that tonight's concert achieved what you wanted it to?
Tim Munro: I certainly do. Absolutely.
Thirsty: Will the two groups record together?
David James: As I said, we're extremely impressed. And, we would love to if there was something that we could do. But the problem is the material, because it's not a very common lineup for us. If we did have the music...
Thirsty: Well, you do have the composer right here...
You must have Adobe Flash Player to use this function.
Tim Munro: I think the complex thing for both of our ensembles is that in fact we are primarily touring ensembles and so that the repertoire reflects that. So we actually play mostly as an indivisible sextet. We commission sextets and we take them on the road. So, I mean, a lot of the things about Stephen's piece had to be dealt with...you know the practicalities of touring and things. So we don't work very much with voices and I'm sure it's the same with your guys and instrumentalists.
Stephen Hartke: This was the fortuitous intersection of two touring ensembles who are headed in different directions and managed to be in Chicago for this experience.
Links:
Stephen Hartke - stephenhartke.com
The Hilliard Ensemble - hilliardensemble.demon.co.uk
eighth blackbird - eighthblackbird.com
Harris Theater - harristheaterchicago.org