You must have Adobe Flash Player to use this function.
MARCH 2009
By: Sarah L. Myers
Editor-In-Chief
---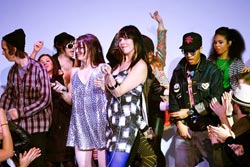 Starr Rinaldi and Jordi Scott
It's my favorite New York City bar, my favorite New York Dolls song, and now it's my favorite way to get trashed.
It's the biggest party of the month in my beloved New York City! Jordi Scott and Starr Rinaldi's "Everything Sux... So Let's Dance!" at Arena was February 13th! Thirsty was there for the fall collection and spring '09 brought more sex and rock n' roll. Jordi's fashions are at home both onstage and backstage, and NYC's elite packed the house to catch a glimpse. I'm sure my boys Alan and Ryan served up a little hair of the dog at The Sixth Ward - always the next stop after a hot after-party.

Stephen Sprouse
Back when MTV was cool - back when shows like House of Style (hosted by Cindy, not Shalom and Amber) featured Todd Oldham using shelf paper for studio decorating - I first discovered Stephen Sprouse. Fashion and music were coming together again. Elastica was mod, L7 was grunge, Hole was kinderwhore. Stephen was outfitting the new Rock and Roll Hall of Fame in Cleveland, crawling around on the floor, pulling leather pants (SEX originals) over the asses of mannequins and looking cool as hell. I knew he made clothes for Debbie. He took a pillowcase out of the trash and made a dress. He hung padlocks and razorblades from her hems to keep her crotch from showing. Five years after his death we get a retrospective coffee table book, covering all those early days then up to his collaboration with Marc Jacobs for Louis Vuitton. Not much separates glamour from the gutter, especially in the hands of this kind of genius.

Sarah and Moises Juarez

On a subzero Chicago night in January, I grabbed my best girlfriend and headed to the House of Blues for a full-album performance of "Exodus" by the legendary Wailers. The joint was packed front to back with an indescribable energy that had front man Elan near tears. We danced to two encores from behind the sound board, (was it steam from body heat or a different kind of fog we saw rising above people's heads?) then headed upstairs to hang with openers Tomorrow's Bad Seeds. The dressing rooms were jumping with performers and friends, all mingling after a nearly four-hour set. What an incredible night!

Justin Tranter and Sarah
You must have Adobe Flash Player to use this function.
Semi-Precious Weapons brought their magnetic glam punk selves to Chicago's Bottom Lounge on the 11th - a homecoming for front man Justin Tranter, whose fabulous mom bounced up and down in the front row! I first met them at the Joey Ramone Birthday Bash, then again for a Chicago interview. One of the best bands around, SPW demand an audience as exciting as they are - it's always a sea of glitter and lace screaming "I can't pay my rent but I'm fucking gorgeous!" back at the stage. This was their last stop on the Hell on Heels tour. Check out badass openers Von Iva! Justin is now in talks for his own TV show...
Chicago's Graham Elliot is the hottest restaurant in town. The food is, of course, amazing, but with an in-house mixologist and hilarious bartenders, the best seat in the house is right up front. You can watch the coming and goings, get down to as much Madonna and Gn'R as chef's iPod holds, and down as many signature cocktails you can get. With each containing as many elegant potions as an eau de parfum, each drink can be nursed all night (though that's never been exactly my style!) Take my advice and order the Addicted to Love - over and over. Bottoms up!

Links: