You must have Adobe Flash Player to use this function.

By: Michael Lara
TOKYO, JAPAN
---
"Do you know what it means to miss New Orleans? And miss it each night and day? I know I'm not wrong. The feeling's getting stronger the longer I stay away." Amazingly released over 60 years ago, the film New Orleans (1947) not only featured two legendary musicians in their prime as performers within, Billie Holiday and Louis Armstrong, but as key characters as well-a real treat. Famously sung by Holiday and accompanied by Armstrong and his band, these words colorfully convey the richness born from this city and deeply embedded into one of its internationally adopted sons, Jon Cleary. As a thirty-year resident, this Englishman in Nola clearly knows what Lady Day and Satchmo are saying with his endless touring that takes him far from his beloved home.
In Japan to promote himself and The Absolute Monster Gentlemen's Mo Hippa release on Buffalo Records, Cleary cannot contain his buoyant adoration of it and his decisions to passionately pursue his profession and in doing so, making the leap to fully achieve his boyhood dream. Minutes spent both prior and after his in-store appearance minus The Absolute Monster Gentlemen Cornell C. Williams (bass, backing vocals), Derwin "Big D" Perkins (guitar, backing vocals) and Eddie Christmas (drums), a tea-sipping Cleary cheerily unfurls a bit of him and his city:
Thirsty: Alright. I'm with Jon Cleary. We're on the 5th Floor of Tower Records in Shibuya… Imagine that.
Jon: Good to be here.
Thirsty: Well, I have a few things here for you. Um, before I forget. This is a little something… Ah, you're English. I know you're from Kent.
Jon: Yeah.
Thirsty: Very famous place-Battle of Britain and all that…

Photo: Michael Lara (click to enlarge)
You must have Adobe Flash Player to use this function.
Jon: Hmm-hmm yeah (grinning big).
Thirsty: So a tea towel is always…
Jon: Ah, wow, well thank you very much.
Thirsty: This is Kamakura (Japan). Doug (a Kamakura resident and also where Buffalo Records is headquartered) can tell you where he lives.
Jon: Oh, the place where I was staying last night.
Thirsty: Now, he (Doug) knows this. My house was like an 85-year old house. It burned down last year.
Jon: Oh God…
Thirsty: Terrible thing, but these locks survived. I have a few more.
Jon: Oh wow! How beautiful.
Thirsty: And so one for each of you guys I got. So if you could pass these onto Big D for me and uh...
Jon: So what's the story of these?
Thirsty: Yeah, yeah man, they're heart locks. A friend of mine who was a manager (tour) of another band (My Chemical Romance) and he said, "Oh Mike, I'd like you to maybe think about, you know, selling these, pushing these in Japan." Then of course my house burned down. I wasn't sure… But I had some of these samples left and I thought of what your music represents, a lot of heart, a lot of soul.
Jon: Oh well, that's lovely. I might give this to my wife. I don't know if you'd be offended if I gave this to my wife…
Thirsty: Oh, no, no, no, no, no…. You can tell its quality.
Jon: Yeah I can. Yeah. Wow, thank you.
Thirsty: Two more things, um, this one is a CD Art Deco Series: Charming Gents Of Stage & Screen. Like Al Jolson, Fats Waller and stuff like that.
Jon: Oh great.
Thirsty: And then this one, you'll like, is with Lonnie Johnson and a bunch of other stuff, Raunchy Business: Hot Nuts & Lollypops.
Jon: Al right, well I love Lonnie Johnson (big smile). Thank you very much.
Thirsty: No worries man. That's why I wanted to make sure I got these various things done and out of the way. Not sure how much time…
Jon: Well, we could always talk a little bit afterwards. I find generally after it's crazy, signing CD'S and all.
Thirsty: From Kent to New Orleans to Tokyo, you think there is a common ingredient between the three?
Jon: Ha-ha-ha! Between Kent, New Orleans and Tokyo…
Thirsty: Yeah.
Jon: No. Not really. Nothing springs to mind immediately. No I think it's good that all these places are different. You know, I think the world is becoming, getting more and more homogenized and all the differences are gradually getting ironed out. I like the fact that there are still diverse characteristics and qualities to places-so um no very different, very different.
Thirsty: But you've seen this movie of course I assume (showing a DVD case).
Jon: Cat On A Hot Tin Roof (1958)? Oh, that's A Streetcar Named Desire (1951).
Thirsty: When I think of New Orleans, the two films that I think of are A Streetcar Named Desire and, actually the one I like even more is New Orleans.

Photo: Michael Lara (click to enlarge)
---
Jon: Yeah (real wide easygoing smile)…
Thirsty: With you know…
Jon: Louis Armstrong, Billie Holiday.
Thirsty: Ah, Billie Holiday...
Jon: Well, that song was one of the first songs that I heard that made me want to be a piano player.
Thirsty: Really?
Jon: Yeah, "Farewell To Storyville." It was written for that movie and was recorded by Kid Orrie in New Orleans and I heard another version of it that my uncle brought back from New Orleans when I was as a little kid and it just mesmerized me. And it was a great piano solo. And I thought man-that's what I want to do when I grow up: I want to be a piano player and play like that.
Thirsty: So we can safely say, that for New Orleans, if you had to pick which film you would you gravitate to, which would it be?
Jon: That one just for the music and I'll play that song if you like "Farewell To Storyville."

Photo: Michael Lara (click to enlarge)
---
Thirsty: Oh yeah, yeah, yeah, please do.
Doug (Buffalo Records): A quick sound check?
Jon: Okay. See you in some minutes. Quick break.
Thirsty: Sure.
10-15 minutes later…
Doug: You want something to drink?
Jon: Yeah. I'd love a… What do they have to drink?
Doug: Water, ice tea, ice coffee, Coca Cola ®, ginger ale…
Jon: A ginger ale.
Doug: Ginger ale. Okay. I'm assuming they have it, but if they don't have it?
Jon: Um, a hot tea would be good-a hot green tea or a hot regular tea with no milk. Thanks.
Thirsty: Ginger… They (the Japanese) have a new beer coming out, a ginger draft.
Jon: Oh really, that sounds pretty good.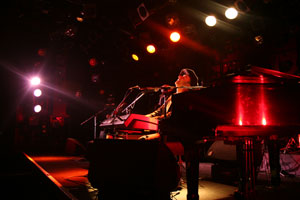 Photo: Michael Lara (click to enlarge)
---
Thirsty: That's kind of funny. That's one of the questions for you. It's about concoctions. Here you have such a variety of canned coffees.
Jon: Yeah I know. Crazy.
Thirsty: And for you, what is your favorite concoction?
Jon: Favorite concoction?
Thirsty: Yes. Could be music. Could be food? Whatever…
Jon: Ha-ha-ha, my favorite concoction?
Thirsty: Your favorite discovery perhaps…
Jon: God. That's a pretty broad question (slight smile).
Thirsty: It is.
Jon: (chuckling) Well, um, I was very enamored of mojito's the very first time I went to Havana. Now you find them all over the place...rum cocktail. At that point, it was before Cuba became trendy and I never had a combination of rum and mint before. So that was pretty special. Yep and then a good combination is a Guinness and a hot Chicken Vindaloo. That's a good one.
Thirsty: Wait, what's that?
Jon: A pint of Guinness to go with a nice hot Indian curry.
Thirsty: I'll have to try that out this week. Will definitely do that. Now, one of my favorite things to do is cook and you are living in one of the great places for food for sure.
Jon: Uh-huh.
Thirsty: And one of my favorite things to do is cook and this is one of my favorite books, Secrets Of Better Cooking (1973). It did survive the fire, but you can tell, it's got a bit of water damage and stuff.
Jon: Gosh. I'm familiar with water damage (alluding to 2005's devastating Hurricane Katrina).
Thirsty: Yeah. So if you and The Absolute Monster Gentlemen were to be each a dish, a representative dish, what would be the Jon Cleary dish, the Big D dish and so on?
Jon: (Grinning) So you want us to be a dish?
Thirsty: Well, you can take it two ways. Either as that dish represents me best, like the curry with a Guinness. Or if you all were to have a big feast and each of you had to cook one dish, what would you make? What would Big D make? What would Cornell make? What would Eddie make?
Jon: (Long pause) I got no idea. I don't know really. I mean… I don't cook much when home. I like red beans and rice. It's an easy thing to cook. They have red beans every Monday in New Orleans. You can cook it very easily and it's a real tasty dish. That's the workingman's dinner in New Orleans having red beans and rice.
Thirsty: Is there a quintessential meal that you all have together?
Jon: New Orleans seafood. Everyone in New Orleans eats seafood. They make good shrimp and Crawfish Ettouffe.
Thirsty: When you got into New Orleans, what was the first thing you smelled or saw?
Jon: The first thing I saw was when I got out of the cab was the front entrance of The Maple Leaf Bar. I came straight from the airport to the Maple Leaf Bar on Oak Street. So I got out of the cab with my bag and I was just standing there, just looking at this funky old New Orleans bar. And um (eyes rolling about), I don't know if there were any smells particularly, but the first thing I did was sit at the bar and they gave me a Dixie Beer®, which is a local New Orleans brewery. So the first taste was a Dixie Beer and then Earl King walked on the stage and played "Lonely, Lonely Nights," which is one of my favorite songs, even before coming to New Orleans so it was a cinema moment. So that was the first few minutes in the city of New Orleans. It was years ago.
Thirsty: So how many of your countrymen have you gotten to come visit you?
Jon: Quite a lot (proudly beaming). Quite a lot you know… I went there after I left school and I guess within 2 months, got 4 people to come over. It ended up being 6 of us sharing a house. We were 17, 18 years old. We were like kids in a toy shop-No parental supervision in a city where there are no drinking laws and music all night long. It was wild. Parties for years and years. So I've had good friends that have lived there in New Orleans. I've had good friends that have died in New Orleans. Um, a lot of people in the 30 years I've been there.
Thirsty: Which of the two films is more representative of getting the flavor of your hometown?
Jon: Well, films don't.
Thirsty: What does? What best gets the flavor of New Orleans. People will ask me and ask Doug I'm sure, "Oh hey, you live in Japan. That's so crazy."
Jon: Yeah.
Thirsty: "Oh, what's Tokyo like?" I mean, talk about a loaded question.
Jon: Well then, you already know it's an impossible question to answer.
Thirsty: Yeah-yeah.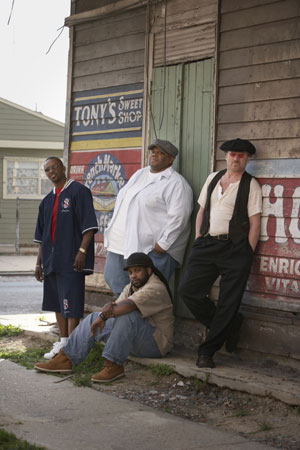 Photo: Rick Olivier
You must have Adobe Flash Player to use this function.
Jon: You can't describe New Orleans. You have to go there. My uncle, the night before I left for New Orleans, I'd stayed with my uncle in London who had lived in New Orleans. He's the person who turned me onto New Orleans and turned me onto the music and taught me how to play. And he said, "I'm not going to… There's nothing that I can tell you." There's one line from an old song called "Burgundy Street Blues" by George Lewis and it's about Burgundy Street, but the song is actually about New Orleans. "It's a place of mixed emotions that will stamp a memory in your heart that will never leave." He said, "Just remember that." It's a place of mixed emotions. You know, it's good times simply. It's a pretty sad city in many ways. It's a melancholy place. Yeah. You love it and hate it and good times and bad times.
To savor a fuller flavor of Jon Cleary, his Nola and their joint cooking:
joncleary.com
myspace.com/joncleary
buffalo-records.com
myspace.com/buffalorecordsjapan
visitkent.co.uk
en.wikipedia.org/wiki/Battle_of_Britain
bbc.co.uk/history/worldwars/wwtwo/battle_of_britain_01.shtml
filmneworleans.org/
tripsmarter.com/neworleans/archives/storyville.htm
neworleanscvb.com/sitelink/index.cfm/contentID/572
imdb.com/title/tt0039655/
en.wikipedia.org/wiki/Do_You_Know_What_It_Means
en.wikipedia.org/wiki/Lonnie_Johnson
en.wikipedia.org/wiki/Mojito
epicurious.com/recipes/food/views/CHICKEN-VINDALOO-107088
chilemasters.com/Recipes/crawfish-ettoffee-1.html
en.wikipedia.org/wiki/Maple_Leaf_Bar
en.wikipedia.org/wiki/Dixie_Brewing_Company
en.wikipedia.org/wiki/Earl_King
en.wikipedia.org/wiki/George_Lewis_(trombonist)
nola.com