You must have Adobe Flash Player to use this function.
By: Michael Lara
TOKYO, JAPAN
---
"Get up! It's time! Get up! Make it snappy! Dance like a psycho, a sight like nothing on earth… All the way mad and bad, all the way hyped!" And though it's been 18 years since PWEI's unleashing of its fervent drum n' bass-driven "Dance Of The Mad Bastards," that is exactly what wholly unfurls within these cozy confines adjacent to Yokohama Bay. Nestled about countless lines of warehouses and freightliners, Brazil's top purveyors of a party cuisine, CSS (Cansai de Ser Sexy), lavishly feed all this night.

Photo: Ryota Mori (click to enlarge)
---
Fresh from a slot of the past summer's FUJI ROCK FESTIVAL and 2007's SUMMER SONIC FESTIVAL, vivacious vocalist Lovefoxxx (a.k.a. Luisa Hanae Matsushita), Luisa Sa (guitar, keys), Carolina Parra (guitar, drums, backing vocals), Ana Rezende (guitar, keys), Adriano Cintra (bass, backing vocals, drums) and Jon Harper (touring drummer) revisit this island nation salivating for their first full course meal from these collective chefs' international kitchen of distinction. With equal first serve ace helpings from both their debut menu Cansei de Ser Sexy (2006) and Donkey (2008), Casa de CSS reaches out to provide mind, body and soul elation for patrons and staff alike amid a stage peppered with giant glitter-filled white balloons alongside regular sized ones for a most festive dancing table arrangement.
As their mobile dance-infused eatery opens, first flavors to savor are the high-hat drum fed pulsing "Jager Yoga" that has patrons toasting one another and as Lovefoxxx leads her fellow chefs to fittingly kick-off the holiday season. Her magnetic powerful blend of Siouxsie Sioux and Annabella Lwin playfulness bursts into full flavor furthermore in the keyboard cascading, running "Meeting Paris Hilton." As Lovefoxxx slinks across their elevated galley in telling a tale, this savory second dish has all in agreement for more and duly slides right into the committed shaping, surging "This Month Day 10." Punctuated with the popping of one of the big balloons, glitter spreads throughout as the smiles from sweet sweat shared.
You must have Adobe Flash Player to use this function.
The swelling fuzzy roll plate of "Left Behind" does the exact opposite of its name, keeping all riding these resplendent waves together. Meshing into the frolicking, fun announcement of self-confidence that is "Off The Hook," Lovefoxxx bounces about in her African print cat suit. This massive momentum in nourishment continues with the banging, charging searing convergence of Carolina's and Luisa's guitars amid Adriano's anchoring bass and backing vocals alongside Ana's keys layering for "Rat Is Dead (Rage)."
Adding flavor with no MSG to the absolute freedom found within oneself and this hall, karate kicks and other Benihana ® movements from head chef Lovefoxx during "Move" propels all into the delicious, flexing salacious slither of "Music Is My Hot, Hot Sex." Follow up "Give Up" rallies a clap your hands feast as this 3-guitar dish digs away, guaranteeing no one will give up on them and their threading, pulsing mission ensuring submission that runs resplendently into the drilling jump and spin boogie of "Beautiful Song."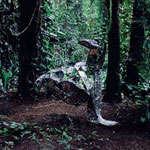 Donkey (2008, Sub Pop)
---
With a stereo chorus of "hey, hey, hey, hey, hey, hey, hey, hey," repeating refreshments that make you eagerly explore come in the breezy swinging sing along of "Alcohol" that baths in its happy harmonica-peppered pumping continuance. Forget about the chilly temperatures outside, inside this house it feels outside and beachside as balmy ocean air and sunshine covers and nourishes you. Completing this full liberation, Captain Morgan®, Meyer's ® and Red Stripe ® libations might as well be happening as these chefs serve up another ace with the bass-buttoned, cowbell-topped "Let's Reggae All Night" to finish the main course.
Desserts and coffee follow to sweetly coat all's mind, body and souls before exiting into the brisk bayside air and hoof it back to their respective station. Reappearing out from their pantry dressed as ninjas, their first serving "Air Painter" bangs out in its rich rumble, full of adventure like a slice of Kahlua® almond fudge cheesecake with happiness evident from head to toe across the entire hall. Seconds brings it into interstellar overdrive with "Let's Make Love And Listen To Death From Above." With its infectious 50's sci-fi cream base colliding with a 70's Chic bass line, patrons and CSS chefs alike can't stop their need to do the robot, shake their rump, simultaneously throwing up their hands in the air like they just don't care. The menacing "now you can-now you can't" of "ALALA" provides the third and final fulfilling sweet to sumptuously eat alongside others with your hands and your feet. Like any supremely satisfying meal out, leaving is always full of resonant reflections.
Bon appetit while keeping your move on with CSS and kindred spirits:

Photo: Ryota Mori (click to enlarge)
---
myspace.com/canseidesersexy
myspace.com/ksrrecords
subpop.com
en.wikipedia.org/wiki/Pop_Will_Eat_Itself
en.wikipedia.org/wiki/Bow_Wow_Wow
en.wikipedia.org/wiki/Annabella_Lwin
annabellalwin.com
en.wikipedia.org/wiki/Siouxsie_Sioux
fujirockfestival.com
summersonic.com
thefreedictionary.com/hat+trick
en.wikipedia.org/wiki/Benihana_(restaurant)
en.wikipedia.org/wiki/Chic_(band)