You must have Adobe Flash Player to use this function.
By: Sarah L. Myers
CHICAGO, USA
---

Sarah L. Myers
Thirsty Editor-In-Chief
Chicago, USA

OASIS TOP 5

1. "Whatever"
Love the strings on this one!
2. "Half the World Away"
Great melody. Just Noel and his guitar.
3. "Live Forever"
One of my favorite songs of all time, period.
4. "Talk Tonight"
Some of Noel's best lyrics. This was great Unplugged.
5. "Slide Away"
One of my faves for Liam's voice. I love when it breaks during the last chorus.
I still have my first Oasis press clipping - a 1994 Rolling Stone blurb about one of the band's first US gigs at a tiny Hoboken club. Enamored of Liam's bowl cut and pouting features, I dove head first into a romance that's lasted more than a decade. Other than The Ramones and The Verve, Oasis is the only band that has remained in my life through it all. They knew me at 15 and 25. That first clipping featured a 23-year-old Liam, four years younger than I am now. We've grown up.
Growing into the musical packrat I would later become, I hoarded back issues of Sugar magazine - the UK equivalent to Tiger Beat. I wallpapered my room with images of Liam and Noel, and changed my vocabulary accordingly. Everything was top and I was mad for it. But at the heart of this infatuation was the music.
Definitely, Maybe
had the ballads. The swirling guitars on "Slide Away" hinted at what would we'd hear on Be Here Now, an album so excessive that cocaine practically spills from its grooves. I remember getting Be Here Now the day of release and curling up to unlock the secrets of the liner notes. It was like a puzzle - cryptic images and numbers, phrases and symbols. They were deep in the admiration phase and nothing went without reference. I jumped in with them and became obsessed with John Lennon and Keith Moon.

Starr Rinaldi
New York, USA

"This was the hardest thing I've had to do -my top 5 faves. I actually don't have any faves, but I am giving you the top 5 that are relevant to me at this moment in time."

1. Rock n' Roll Star
2. (What's the Story) Morning Glory (its my alarm ring on me cellie)
3. Supersonic
4. Waiting for the Rapture
5. I'm Outta Time
Years after that poignant release, (I remember hearing of Michael Hutchence's death that same weekend), Oasis has dropped off some radars yet defended their title of Best Band in the World on others. It's debatable. I came and went with them. Be Here Now was my last record for awhile. In 2005 I stumbled across a 15-second sample of "Songbird" and raced out to buy Heathen Chemistry. Everyone has that song that brings a band back into their lives. I stayed with them and tracked the release of their newest, Dig Out Your Soul.
Between Be Here Now and Dig Our Your Soul, the guys have turned out some brilliant singles - "Lyla" and "Little By Little" among them. But the perfect record eluded them. I wanted that lovely ballad next to a rousing, "Morning Glory" anthem. Dig Out Your Soul feels like a comeback album. It's classic Oasis from start to finish, blatant nods to influences included. "I'm Outta Time" might be Liam's most beautiful vocal performance ever. John Lennon's voice at the end seals it. It's stirring, unexpected, and magnificent.
The swamp is there, too. "Bag It Up" has that great rolling stomp that reminds me of Morning Glory's "Hello" and "(Get Off Your) High Horse Lady" has that "Fade In/Out" slide from Be Here Now. Vocally, Liam's somewhere between Lydon and Lennon, as usual, but that snotty lout is a Rock Star now and he sounds like it. With many of Noel's vices behind him, his playing has matured just as elegantly. Zac Starkey, son of Ringo, lends a bit of his father's genius on the backbeat. Put simply, Oasis are back.

Natalie McKenzie - Thirsty
London, UK

"This takes me back to being 13 years old and hanging round the streets of Scotland, cold rainy nights drinking stolen whiskey from our parents stash and singing our hearts out!"

1. Little by Little
2. Don't Look Back in Anger
3. Some Might Say
4. Songbird
5. Cigarettes and Alcohol


Alan O'Keeffe
Guitarist, Des Roar
1. Talk Tonight
2. Acquiesce
3. Rock n' Roll Star
4. The Masterplan
5. Slide Away
I remember an MTV Oasis documentary I recorded back in 1997. A snarling Noel yells into the camera, "I'm part of the greatest band in the world. Am I happy with that? No, I'm not! I want more!" They set the bar at brilliance in 1994. Trying to top themselves is an effort most bands make with each record. Oasis has made a career out of it.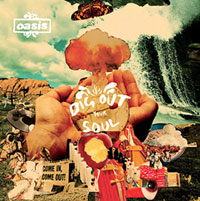 Dig Out Your Soul - 2008
Links: