You must have Adobe Flash Player to use this function.
By: Will Lamborn
BUENOS AIRES, ARGENTINA
---
As I passed the time fiddling with my camera and enjoying a session of people watching (an entertaining mix of ex-pats and the local Buenos Aires indie rock set), the curtain opens and my attention is diverted to Avey Tare, Panda Bear and Geologist, collectively Animal Collective. Each hovers over their own electronics console, plus a spare cymbal and floor tom to pound on for Tare and Panda. They launched straight into their dense electro-primitivist pop. The set would feature a healthy dose of new songs and fresh interpretations of old ones, melded together through a continually inventive sonic platter; constantly mutating textures, ambient drones, gurgles, blips and inexplicable noises somehow coming together in a cohesive sound.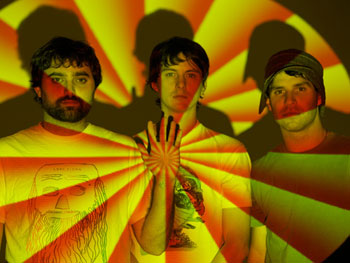 Throughout the night, Panda Bear's (AKA Noah Lennox) Beach Boy-esque voice and the more punctuated, rhythmic yelp of Avey Tare shared the lead and backup vocal duties in fairly equal measure. Tare ambled about the stage, at times hunched over his rig, microphone in hand, at others harmonizing with Lennox or ornamenting the rhythm on his nearby crash next to Geologist's incessantly bobbing headlamp. The group created an easy-going but highly engaged stage presence, and the room responded; the crowd po-going en masse and rapturously attentive to the electronic swirl.
Persistent technical difficulties (namely the sporadic cutting out of Geologist's rig) failed to dampen the mood. These moments of PA muffle were compensated for with handclaps and dancing, while AC for their part forged straight on through the chaos. They graciously apologized for the hiccups on multiple occasions- no impertinent rock star behavior to be found.
Eventually a sprawling section of ambience and hymnal vocals by Lennox settled into the systematic pound of Panda Bear's "Comfy in Nautica" from Person Pitch. My friends and I exchanged appreciative smiles upon recognizing where the song was going, us being amongst what appeared to be the many in attendance wishing there were an additional solo Panda Bear show in Buenos Aires.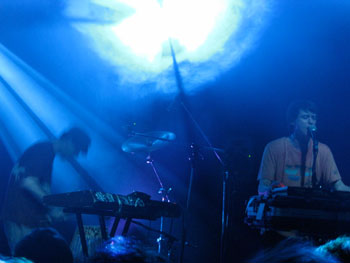 Photo: Will Lamborn (click to enlarge)
---
Still, it was the rambling, brilliant "Fireworks" that became the huge centerpiece of the evening. Over its unmistakable machinegun rhythm, Tare grabbed a guitar to lightly strum the underlying chords and lead a sing along to the falsetto "oooh-weee-ooh" of this track from 2007's Strawberry Jam. The trio then went meandering through other song fragments, in the end falling back into "Fireworks".
The crowd was clearly into it, and there seemed to be a genuine sense of appreciation in Animal Collective upon their return for the encore. They came back on to "Leaf House" from Sung Tongs (2004), and finished up with "Peacebone," the opener from Strawberry Jam. The faulty PA disrupted once again, but the energy showed no sign of waning.
Links:
dominorecordco.us/artists/animal-collective
myspace.com/animalcollectivetheband