By: Kent Brown
CHICAGO, USA
---
Photo: Kent Brown
---
Let me begin by making something perfectly clear: I am in no way a New York Yankee fan. I have spent much of my career as a lifelong Atlanta Braves fan actively rooting against the Bronx bombers, (especially in the mid to late 1990's when the Braves/Yankees rivalry was at its peak). I am, however, a baseball fan and a lover of history. Whether one loves or hates the Yankees – the history of the stadium and Yankee organization remains unparalleled. Yankee stadium has been a hallowed institution since 1923 for baseball fanatics, boxing and football fans, media personalities, and concert goers alike. In a few months, the stadium will be no more. No one will ever see another game, concert, or match within its walls. The old Yankee Stadium will soon be destroyed and turned into a parking lot across the street from the new Yankee Stadium, (sort of a depressing send-off for a structure with so much history). As a contributing writer for a media outlet, I feel an obligation to respectfully say farewell to this unique and storied cathedral.
I have physically set foot in Yankee Stadium twice. Both occasions were Yankee games and I was rooting for the visitor each time. My first Yankee game I'll never forget. It was fall, 1999, and my Atlanta Braves were visiting Yankee Stadium in an interleague game. The starting pitchers: Tom Glavine for the Braves, Roger Clemens for the Yanks. The atmosphere was electrifying to say the least. I have frequently been a fan of visiting teams in large, intimidating environments. Yankee Stadium takes the cake, boys and girls. I entered Yankee Stadium in '99 a cocky Braves fan decked out in full regalia: Fred McGriff jersey, Atlanta hat, and my foam tomahawk ready to do the chop at any opportune moment. Maybe the ghosts of Yankee Stadium were bearing down on my thighs in those ancient blue seats, but I have to say; I had never felt more fear at any sporting event for donning an opposing teams' gear, (mainly the foam tomahawk, in this instance), and actively rooting for my team. I wanted so badly to stand, cheer, and "do the chop". The Braves destroyed the Yankees that night. Roger Clemens got booed off the field and Glavine was phenomenal. I finally mustered up the courage to do it. I stood up with my weapon and began to chop – but only for moment as an object whizzed by my skull amongst the shouts of angry New Yorkers. I abruptly took my seat. The two older gals sitting in front of us wearing matching Jeter jerseys kindly advised me to take my seat and remove my Braves jersey off before entering the subway. I took their advice.
Left to right: Dickey, Gehrig, DiMaggio, Lazzeri
---
My second trip to Yankee Stadium was much tamer. I got to visit the ghosts and sit in those worn blue seats one last time during the stadium's final week with my brother and my father. It was a very special trip for us. The Yanks had already been eliminated from playoff contention, but it was still a playoff atmosphere. The stadium was full, the bleacher creatures were shouting, and camera lights were blinding every time Derek Jeter stepped to the plate. He was one hit away from passing Lou Gehrig as the all-time hit leader in the original Yankee Stadium. Even the visiting White Sox players seemed to be in awe.
New York has been undergoing a transformation that is downright sad. CBGB's: shut down. Coney Island's Astroland Theme Park: set to close its doors. Now it's Yankee Stadium's turn to take its place in the annals of history. "Blitzkrieg Bop" will never again spark late inning rallies in the house that Ruth built. We will always have stories, pictures, and video records as evidence that this hallowed hall in Bronx once stood tall among its friends and enemies. Whether you loved it, hated it, or loved to hate it – Yankee Stadium will forever rank as one of the most intimidating, revered, despised, and adored venues in American history. I leave you with some of my favorite quotes from those who knew the venue better than I did, and some of the more historic events that took place in Yankee Stadium.
"I'd give a year of my life if I can hit a home run in the first game in this new park (Yankee Stadium)."
- Babe Ruth (who went deep in the third inning of the Opening Day game on April 18, 1923)
"There was a great, dark mystery about it when I first came here from Oklahoma. I still get goose pimples just walking inside it. Now I think this is about the prettiest ball park I ever saw."
- Mickey Mantle, 1976
Babe Ruth
---
"I thought it (Yankee Stadium) would be in black and white."
- Greg Maddux, 1996

"Yankee Stadium is my favorite stadium; I'm not going to lie to you. There's a certain feel you get in Yankee Stadium."
- Derek Jeter

"This was the place, the number-one place in baseball. The stadium was like the Empire State Building or the Grand Canyon of baseball, and every time I stepped inside of it I had to pinch myself!"
- Mel Allen, the Voice of the Yankees (1946 - 1965)

"People from out of town say there are three things they want to see - the Statue of Liberty, Radio City, and Yankee Stadium. I guess you could say the stadium is hallowed ground."
- Bill Waite, an employee at the stadium for over fifty years

Notable (non-baseball related) events held at Yankee Stadium:

- November 10, 1928: the University of Notre Dame football team defeats favored Army 12-6, after coach Knute Rockne gives his famous "Win one for the Gipper" pep talk to the team.

- June 19, 1936: German ex-heavyweight champion boxer Max Schmeling defeats American and not-yet-champion Joe Louis, in an upset that was used as propaganda by the Nazi regime. Louis won the rematch also held in the stadium in 1938.

- December 28, 1958: the Baltimore Colts defeat the New York Giants in the now-legendary NFL championship game, 23-17 in overtime.

- July 20, 1957, evangelist Billy Graham attracted a crowd of 100,000 to a televised "crusade" at Yankee Stadium. A New York Times article of the following day described the turnout as "the largest crowd in stadium history" to that time.

- October 4, 1965: Pope Paul VI leads Mass at the stadium.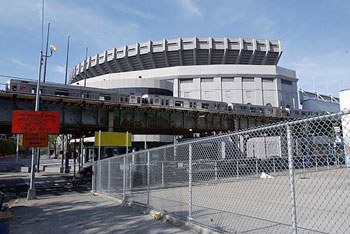 Photo: Kent Brown
---
- June 21, 1969: The Isley Brothers performed the first concert ever held at Yankee Stadium.
- June 22. 1990: Billy Joel performs the first rock n' roll concert held at Yankee Stadium.
- June 10 & 11, 1994: Pink Floyd plays two sold-out shows at Yankee stadium. This would be their final North American tour.
Farewell old friend, you will always be remembered fondly by friends and foes alike.
References:
Yankee Stadium: 75 Years of Drama, Glamor, and Glory. Ray Robinson and Christopher Jennison, (Penguin; 1998)
www.baseball-almanac.com. Copyright 2000-2008