By: Michael Lara
TOKYO, JAPAN
---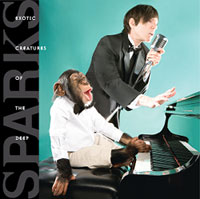 Exotic Creatures of the Deep (2008)
---
"And they're blind. Blind. Blind-blind-blind-blind-blind." Far from that ill bill of health deliciously disseminated in that 1988 Talking Heads hand, brothers Russell (vocals) and Ron Mael (keyboards, programming, orchestrations, humor and tap dancing) continue to playfully deal vital societal commentaries as cunning card sharks in every sense as SPARKS.
Wonderfully mirroring this world with their engaging 21st gun salute, Exotic Creatures Of The Deep, their spectacular continues in full glory, with their absolute zenith coming whenever performing live as evident from Fuji Rock Festival '08 where they quickly filled the far reaches of the massive festival grounds on the Orange Court Stage, watching these dynamic dual dealers play their hands off each other to all's utter delight.
With 13 hands of SPARKS to savor within ECOTD, dealers Ron and Russell open their table with mesmerizing "Intro," ensuring you'll either stop to watch their table or pull up a seat and join in, with the latter being the obvious outcome. Sitting down and peering into their eyes, Ron's eyebrows are up and out come the cards as the fuzzy chugging "Good morning" has all watching the cards fan out and "hits" or "holds" blare out as eyes ping-pong about to the beat. Forget beating the clock or them as Ron's piano peppering coupled with Russell's falsetto keep you hold. Some leave from their losses to the brothers Mael, but you stay and are rewarded with the walker into a frantic finish of "Strange Animal." Ordering another cocktail and wiping your brow, Ron and Russell pass out the "I Can't Believe That You Would Fall For All The Crap In This Song" hand. Its surging, pulsing hypnotic sensation ensnares more onto their table with it being 5-deep all around as the stakes begin to rise and chip purchases accelerate astronomically as eyes widen throughout. The manically tight tick-tock "Let The Monkey Drive" hand sees huge wins and losses throughout to Ron and Russell's slight smiles, all remaining in light. This is just too much fun.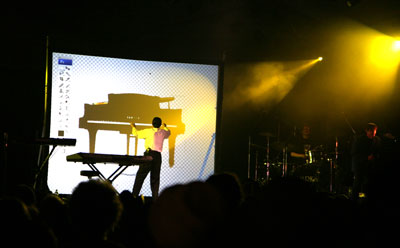 Photo: Michael Lara
---
With a mandatory reshuffling of the deck break coming with "Intro Reprise," brothers Mael deal out "I've Never Been High." With its majestic orchestrations, this hand washes out some who question their ability to keep pace with them as others rise to take up the vacant seats. Fresh and strongly determined, "(She Got Me) Pregnant" challenges all players with its relentless march with brokering between becoming evident in hopes to turn the tables as chips evaporate on some stacks as the following hand "Lighten Up Morrissey" sees winnings and losses kept in perspective.
"This Is The Renaissance" opens the table with a new deck being dealt amid its triumphant awakenings as all contemplate their hand as "The Director Never Yelled 'Cut'" helps diffuse miscommunications between players and dealers brothers Mael to ensure a "hit" or "hold" is honored. As the clock for their shift edges near closing time, "Photoshop" helps you and other players go for broke. Final hand "Likeable" is true to form for these dealers are just that, ensuring a full, engaging table at all times. Before cash-ins can transpire, hearty handshakes and drinks fly between as Ron and Russell are begged to stay.
Get lucky with SPARKS past, present and future hands:
allsparks.com
myspace.com/allsparks
imperialrecords.jp
republicmedia.net
fujirockfestival.com
jp.youtube.com/watch?v=V8kjVsv1pnU
jp.youtube.com/watch?v=Y3MSqSNjTBQ
jp.youtube.com/wathttp://jp.youtube.com/watch?v=KvW4XCrc2SI&feature=relatedch?v=w-CvFHcCCrA&feature=related
jp.youtube.com/watch?v=HJkysng2chg
en.wikipedia.org/wiki/Card_Sharks