By: Michael Lara
TOKYO, JAPAN
---
You must have Adobe Flash Player to use this function.
"All the people, so many people. They all go hand and hand. Hand in hand through their parklife." True, it is not a park, but one of BLUR's finest (a Fuji Rock '99 alumni) deliciously delegates to all's ears what transpires from the course of a Thursday to a Monday in the last month of July each year at Naeba Ski Resort in Niigata, Japan. Home to the internationally famous annual summer showcase of film, art, foods and more known as Fuji Rock (www.fujirockfestival.com), it all simply would not be economically nor logistically possible for most without the expansive neighboring golf grounds that are transformed in a matter of hours into a sprawling city of dreams for a majority of festival goers in their various makes of man-made shelters.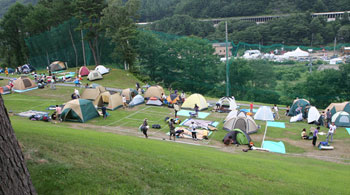 Photo: Michael Lara (click to enlarge)
---
As Fuji Rock's permanent home since the summer of '99, a sizable chunk of the golf course running parallel to the river running through this steep, well-forested valley has grown in both size as well as amenities alongside the burgeoning success and popularity of Fuji Rock. With cold-only showers being the norm until '07, even a sento (hot public bath) is now provided for both genders of this colorfully coalescing campground.
You must have Adobe Flash Player to use this function.
Coming together under the sun, clouds, stars, whatnot has become a seamlessly simple decision for most: With 3-day ticket prices coupled with a round-trip shinkansen (bullet trains) fares from Tokyo Station alone combining to get matters started at 54,000 yen ($490 USD/ 333 Euro), by far the most economical and primal way for lodging is definitely camping alongside the masses gathered to bath in its consummate heavenly atmosphere. While exploring the other options, it quickly becomes evident that the only way to save a sizable chunk of change and then some is going this route. Balancing off the one-time nominal fee of 3,000 yen to cover camping all days versus an average cost of 6,000 yen/night for a Japanese-style inn or 10,000 yen/night to stay at the well-connected Naeba Prince Hotel, the first choice often is the only sensible and fun option to make it until Monday morning.
You must have Adobe Flash Player to use this function.
For those choosing camp life, an unquestionably pure pristine communal feeling awaits to embrace and hold you, bathing in a near instantaneous natural camaraderie to share and party solidly throughout the long weekend. No matter your nationality, ethnicity, age, income or native language, the usual urban walls of separation and isolation come effortlessly crashing down once departing that shuttle bus from Echigo-Yuzawa Station and making that final 7-10 minute trek from the drop-off point to base station central for all destined to enter Fuji Rock.
Photo: Michael Lara (click to enlarge)
---
Upon walking past the main Fuji Rock Festival entrance in front of the huge and sprawling Naeba Prince Hotel complex, one can easily spot the hillside golf course beyond soon to be inundated with tents of all shapes, sizes, makes and colors. Drawing near, anticipation grows as the first beer and other beverage vendors hark out to the thirsty populace amassing, feeding many with their slightly discounted prices just beyond the official grounds. Soon, the ticket wristband exchanges, campsite wristbands, press/guest relations, official merchandise and a substantial food court are excitingly all within striking distance, ensuring that no matter the order of your preference that day, you easily gather wristbands and memorabilia as well as fuel for mind, body and soul. The only question is which to sort first. Decisions, decisions and somewhat tough ones to get used to for a weekend you will traverse sprawling grounds in covering 10 stages beginning just outside the main entrance at Palace Of Wonder/Crystal Palace to the far reaches of the Orange Court Stage and high above where Dragondola takes you to nearest stage to the Sun King. While many veterans' head straight to queue for "Official Goods" as fest shirts are best grabbed within the first 2 days, most campers find staking claim to their primo spot is paramount to sort.
With ticket and camping wristbands proudly fastened, sorting one's hillside home is relieving in being near completion. Turning left just past the Ganban records and goods shop and down a slight slope, a final queue to cross the remaining bridge to the sprawling campgrounds lies majestically dead ahead. Fear not, no trick questions about African or Asian Swallows await you and those in tow. As your wristband shows bridge security you're campsite-worthy, you make it to base camp one. Once there, a massive campsite map faces you while toilets and sinks reside to your right and a food court, BBQ area and showers with sentos list to your left at this intersection for all.
Photo: Michael Lara (click to enlarge)
---
Artist's shuttle buses constantly cross this intersection feeding a service road stretching from the Naeba Prince Hotel to the stages as well as bleeding into the bridge that leads to the main entrance for Fuji Rock. Unsurprisingly, this area's incessantly abuzz with bustling activity from 9am-12 midnight as bullhorns are all the rage for the local all-points security determined to ensure that you know what's going on.
You must have Adobe Flash Player to use this function.
With the usual mad dash to claim spots on the flattest, shadiest or nearest area underway upon its opening at high noon on Thursday, it is best to cross that final bridge as soon as possible on Thursday or have another secure a spot for you as many do know, some even going to the lengths of roping off the exact specifications for each tent and yes, I mean exact too. Regardless of what shakes out, smiles broadly abound as the relentless triumvirate of tops twisted, bottles uncorked and cans cracked open simultaneously throughout, wonderfully fostering the sharing of food, music and of course an assortment of sake, shochu (famed Japanese spirit), vodka, Jack, tea, water, juice, beer as hails of "Kanpai!" or "FUJI ROCK!" bellow from near to far at the top of each lungs from Thursday to Monday. Coinciding and not coincidentally of course, noteworthy queues for toilets, showers, food & drink emerge as well and remain duly constant as you take important stock of your gear and provisions carried in.
In settling in, talk undoubtedly shifts between the lineup, whom to see, what to carry in, insect spray, sun block, raingear check, and of course, the infamous unpredictable weather to be had that splendidly unfurls each day with a usual mix of conditions as past Fuji Rockers attest. Veterans often hoist a Union Jack, a Stars & Stripes, a Maple Leaf, Asahi or other flag denominations for easy identification when hiking back and forth as well as for comrades coming in later to join their gathering. With 2008 being the 150th anniversary of diplomatic relations between the UK and Japan, the hills are alive in this deep union as are the entire festival grounds, bathed in both nations' flags of their father's and beyond.
Speaking from 9 consecutive Fuji Rock experiences myself, that cliché rings true, "You just have to be there." Indeed you must. Damon would agree.
Photo: Michael Lara (click to enlarge)
---
You must have Adobe Flash Player to use this function.
To gather gear and key knowledge on FUJI ROCK past and future, peruse away:
fujirockfestival.com
smash-jpn.com
smash-uk.com/frf08/news.php?id=30
princehotelsjapan.com/NaebaPrinceHotel/index.asp
jorudan.co.jp/english
jreast.co.jp/e/index.html
en.wikipedia.org/wiki/Wellington_boot
More photos (click any to enlarge):
Photos: Michael Lara