By: Michael Lara
TOKYO, JAPAN
---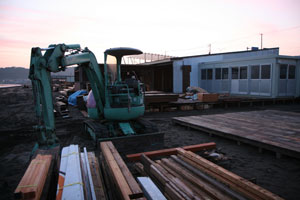 Yuigahama Beach (Photo: Michael Lara)
(click to enlarge)
---
"Here by the sea and sand, nothing ever goes as planned." Well, 25 years on from the birth of this majestic sprawling track within The Who's Quadrophenia, nothing could be further from the truth regarding Japan's annual beach bars peppering its vast shorelines. Nothing is left for chance in their appearance and disappearance.
In watching the transformation nearest to central Tokyo, Kamakura's Zaimokuza and Yuigahama Beaches, it all begins on June 1st each year with the careful pegging claims that day. Either staked and/or roped out, the laying down of these demark the groundwork for all that shall follow in a flurry of activity over the next 4-5 weeks in wood, metal, plastic, electricity and anything else imaginable under the sun. Above all, what is most amazing and baffling of this seasonal project is that it is all done for a maximum of a mere 2-month run with an ever so sad decommissioning and deconstruction process for nature to reclaim its birthright possession.
With their endless rise to prominence in postwar Japan alongside its swelling, speeding economy, the Yakuza's historical handiwork here ensures all timetables stay on track, no matter the weather for July's launch. Rain or shine fails to halt the process of bringing traditional Japanese beach shacks alongside Western and pan-Asian ones, with Little Thailand always scoring heavily in traffic and satisfaction. Providing foods that span the globe from native yakitori, yakisoba, edamame (salted baby soy beans) to Okinawan staples such as taco rice, regional ones of curries from Thailand and India alongside Turkish kebabs as well Western favorites such as hamburgers and hot dogs, one's palate gets due pampering from the scores of shop owners and their staff harking out a vigorous "Irasshaimase (Welcome!)!" Of course, a sea of beverage choices equally greet you in helping wash down each and every savory snack available once your feet hit the sand. Asahi, Kirin and Sapporo supply all aisles of tastes, whether beer, tea, juice, a cocktail, sake, shochu or soda are the chosen one for you. While the usual suspects of Coke, Budweiser and Heineken are found throughout, 2008's newest entry Shigeki Sprite enters the field of play as their prominent partnership with the center-stage located MTV Quiksilver beach bar promotes its new product with its apt "Sexier than water" slogan. Each morning and afternoon sumptuously spills into a balmy carnival night, making it evident that overnight accommodations are on a wish list for many.
Making it painfully depressing for most patrons who face a long commute home somewhere in Saitama, Tokyo, Chiba or elsewhere, the end of August marks the finish line for all takers as these feverishly fun festivities, who reach their zenith amid the annual Kamakura Hanabi (Fireworks) Festival held near the beginning of August, reaches its terminal station. And while an empowering sunshine coincides with a summer breeze begging for a lime in a coconut on the 31st as it unfurls, those present sadly recognize it is unbelievably the last hurrah and final glorious gasps of summer.
Yuigahama Beach (Photo: Michael Lara)
(click to enlarge)
---
Ah well, fear not, like the biological clockwork forged between humans, in roughly 9 months, just as life itself, another sensational seaside birth will greet all again.
Until then, build Japanese sandcastles in your mind-June 2009 is not so far away:
en.wikipedia.org/wiki/Zaimokuza_Beach
en.wikipedia.org/wiki/Yuigahama
last.fm/music/The+Who/_/Sea+and+Sand?autostart
mtvjapan.com
en.wikipedia.org/wiki/Category:Japanese_cuisine
en.wikipedia.org/wiki/Taco_rice
en.wikipedia.org/wiki/Yakuza
meetokyo.net/video/video/gimd3a_I9uI/2008-08-09-sat
MORE PHOTOS (click to enlarge):
(Photos: Michael Lara)