By: Sarah L. Myers
---
You must have Adobe Flash Player to use this function.
Blood, sweat, and murder. Black luck and trouble. Scott Biram brought his brand of foot-stomping swamp rock to Chicago's Empty Bottle on July 26, absolutely jamming the bar to its paper-plastered walls with sweaty blues fans fueled by whiskey and PBR.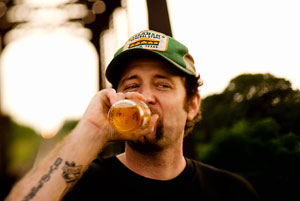 Photo: Brian Jackson
---
Scott Biram is a dirty one-man-band from Texas, so his t-shirt reads. His subjects range from the familiar - blood, sweat, and murder - to barbeque chicken and CB transmissions. He's got a tattoo of a drumstick on his strummin' arm, and his Velcro-ed sneakers keep the beat on the floor below him. One minute he's singing about the road - missing his family and missing his kid - then he switches gears, hits another pedal, and it's fuzzed-out scuzz rock - all with a voice that's filtered through a crude ham mic and recycled back out again.
I sat down with Scott outside the Bottle before the show. We picked a bus-stop bench on the corner, swapping stories and talking music. Openers Left Lane Cruiser were getting ready to kick off the most exciting lineup I'd ever seen, complete with low-fi bizarre hellbilly icon Bob Log III.
Thirsty: How is this tour going?
Scott H. Biram: Well, this is a six-and-a-half week tour, the second longest tour I've ever done. It's me, Bob Log, and Left Lane Cruiser, and earlier in the tour it was Possessed By Paul James, another great one-man band. We're on the road for a really long time and going up to Canada for the first time, for me. We're in the middle of 25 shows in a row without a day off, and the day off that we have is to drive from Seattle to San Francisco so not much relaxing time. When I get home I'm going to start working, or try to finish up my new record. I've got about three or four songs recorded for it and so I need about ten more! It's been frustrating and I've had a little trouble recording it and doing what I want to do, so when I get home I'm going to try and do it the old-school way and just sit down and record the songs straight through and see what happens.
Thirsty: Where's home?
Biram: Austin, Texas.
You must have Adobe Flash Player to use this function.
I was born in Lockhart, Texas, which we called The Capital of Meat, because it's got so many barbeque places. And then I went to school, through college, in San Marcos, Texas, which is just south of Austin. I bought a house in Austin about four years ago, but I don't want it! I'm itching to move back out to the country!
Thirsty: Isn't Austin kind of a hipster haven now, with SXSW and The Real World?
Biram: Well, there's all kinds of people in Austin. You're gonna have your scene-sters or whatever you want to call them or whatever, but that's the great thing about Austin - you go into a bar and it's like a smorgasbord of people. It's hippies and rednecks and punk rockers and hipsters and what have you, and then there's Austin's own cosmic cowboys left over from the 1970s. That's like all the old, half-hippie, half-redneck guys, the pot-smoking rednecks. It's interesting.
Thirsty: Besides the obvious country influence, do you draw a lot of inspiration from metal and classic rock, as well?
Biram: My biggest influences are the blues, really. That's some of my greatest heroes, really. I love old classic bluegrass, you know, Bill Monroe and Flatt and Scruggs and Jimmy Martin. But in high school, Black Flag and old Metallica records and Maiden and whatever, Slayer, and so I never lost those and somehow everything just kind of mixed together and sometimes I do it straight country, sometimes I do straight blues, sometimes I do straight metal rock, and sometimes I do some of that all mixed together.
Thirsty: Everybody in your scene, like the Legendary Shack Shakers and Slim Cessna's Auto Club, you're all buddies. Have you worked with all the bands before?
Biram: Yeah, some of my best friends are the Black DiamondHeavies, and we share the same roadie. They're his first band, and I'm his second. If they're not on the road, he's on the road with me. He's like my best friend. He's my guru. I call him the magical unicorn. His name's U.S. Justin. So we're pretty tight right there and then I've toured with the Shack Shakers a few times, so I've known those guys a good long time. They're great guys. Slim I've played with a few times but I don't know him that well. We've played together three times or something.
Thirsty: Tell me about being in "Seven Signs", the documentary about the South. And you have been in some other movies, too?
Biram: Oh, it was fun. I actually had my acting debut at the Deep Blues Festival. They were showing, there's a film festival and they show a bunch of movies and I was in four of them, three of them were documentaries and one was called "The Folk Singer", it's like supposed to be about a guy that's dealing with troubles of being a musician and what have you, and my friend Conrad is the star. He's the one-man-band called Possessed By Paul James. And then "Seven Signs" was a lot of fun. We actually filmed that part for that movie here in Chicago, in the basement of the Abbey. And I got a part in a documentary about Hasil Atkins called "My Blue Star". There's another documentary called "Running Heavy" that's coming out soon that's about trucking, and I got interviewed on that and got some music on that, too. I did all the music for that. I thought I was the funniest guy in the folk singer, but I don't know about the acting part!
Thirsty: That's such a great story you tell in "Seven Signs" about the dying grandmother who just wants a Dr. Pepper.
Biram: That was my old roommate's grandmother!
You must have Adobe Flash Player to use this function.
When I was a kid, the reason I got the name The First Church of the Ultimate Fanaticism, from my fan club, is because when I was a kid there was this church in this little town, Prairie Lee, that I lived in and my friend's mom had cancer and she started going to church and she "found the Lord!" And then she recovered from her cancer and more people started going and then all of a sudden all the people that are going started going taking their kids out of school and home schooling them and everything and then one day these kids came over to my aunt's house and asked "can we borrow some rock n' roll records?" She was like, "sure" and she gave them like Rolling Stones or whatever, and they took them to church with them and the preacher played them backwards and was like, "see? That's the devil coming out!" And my dad called that church the First Church of the Ultimate Fanaticism.
Thirsty: How have the shows been going on this tour?
Biram: Great! And it's fun to be all one-man-bands touring around. The Left Lane Cruiser is a two-piece but before that we had Conrad. It's easy on tour, especially if I'm headlining, I set all of my amps behind me and they're really heavy and I have six of them. The first band has to play, so I get up and do my sound check and then the first band has to set all of their stuff up, well, I have to move all of those amps! Take it all back down! We just have the level set and everything but we have to move it all. But on this tour it's like one band, the next band, and then my shit's in the back and we don't have to move it or anything and it's really nice. But I hate stairs!