By: Will Lamborn
BUENOS AIRES
---
On March 16, 1996, the Ramones played a farewell concert to 45,000 fans in Buenos Aires in what had been initially planned as the final show of their storied 20-year career. The River Plate Stadium Monumental, home to one of South America's most famous soccer clubs, had filled to the brim, while none other than Iggy Pop played as the opening act before the Ramones took the stage. The band returned to the States on the Lollapolooza bill, playing their last show in Los Angeles on August 6, 1996. Nonetheless, they had built such a fiercely dedicated fan base down south to become, as branded by a major Buenos Aires daily paper, The Argentine Punk Band, "La Banda Punk Argentina".
How, and why, did this foursome from Queens forge such a lasting relationship with a city a continent away from the New York City streets and the famously decayed bathrooms of their beloved CBGB's? An unusual sort of chemistry and mutual appreciation developed over the course of 8 visits to Argentina in 9 years that accumulated 27 of the Ramones' 2263 lifetime concerts. In 1987, prior to the first trip down, Joey Ramone responded to a local journalist that he had no idea what to expect from his upcoming visit to Argentina. Years later, he would hardly be able to leave the hotel in downtown Buenos Aires for the mobs of fans clambering outside. Argentina had become "Ramonesland", and their fans, "Los Ramoneros," could be frequently spotted roaming the streets of Buenos Aires.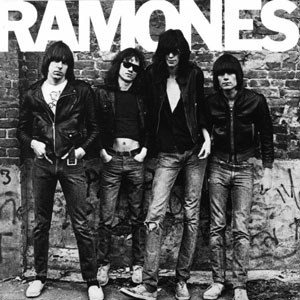 The Ramones brought their downtown-New York punk to Buenos Aires for the first time on February 3, 1987, filling the Obras Sanitarias Stadium to its 4,000 capacity. The concert was successful enough to lead to a three-night stand in the same venue in 1991, expanded further to 5 nights in 1992 and 1993. The venue size continued to grow along with the band's following. In 1994 alone, the Ramones headlined the larger Velez Sarsfield stadium, played a pair of more shows at Obras, and made separate visit a few months later to tour through the interior provinces of Argentina. In October of 1995, the Ramones bumped up the number to 6 sold-out nights in Obras, before returning in '96 for their last international show.
The farewell show itself would not signify be the end of the Ramones' South American connection. Dee Dee Ramone met his wife, Barbara Zampini, in Argentina in 1997. More recently, Rockaway Records, an Argentine label, released the first worldwide tribute album to the Ramones, with artists from Argentina, Brazil, Uruguay, Chile, USA, Spain, Italy, France, England, Ireland, Japan, Belgium and Germany contributing.
This continued romance with the Argentine public doesn't seem to stem from an immediately apparent source. Those with the largest following in Argentina have typically been mainstream mega-groups from the UK such as U2, the Rolling Stones, Queen, and, curiously, Oasis. Surely, Buenos Aires is the Latin American city that most considers itself European and cosmopolitan, traced to its infancy as a contraband port that would later experience an explosion of European (primarily Italian) immigration. Consistently in and out of economic crises in the last 30 years, Argentine music fans seeking release from their daily reality could perhaps identify with the stripped down rock played by four average guys sporting uniform leather jackets and jeans. Regardless, what is certain is that La Banda Punk Argentina (from New York) carved out a niche in Buenos Aires, creating a new urban subculture and reaching a benchmark as the American band that has most visited Argentina.
YouTube, Blitzkrieg Bop at River Plate Stadium, 1996
Ramones in Argentina Site (in Spanish)