By: Michael Lara
TOKYO, JAPAN
---
"Man gets tired… Spirit don't. Man surrenders… Spirit won't. Man falls… Spirit flies." Mike Scott's 2 minutes' shy salute to fortitude may have been penned over two decades ago, but in repeating generations before and followed since, like other healthy staples, it has been righteously celebrated and bolstered. Rage Against The Machine's Tom Morello (vocals, acoustic guitar, harmonica) provides one of the latest genre and generational-spanning brotherhood of disciples for universal dignity and justice.
While harking his own personal archangel on vocals and guitar, Joe Strummer, to his congregation this night, clearly Billy, Johhny, Muddy and so many others readily pump Morello's healthy blood. Amongst his extended family this night, broad smiles and resilient hopes fuel the hungry souls as they bath in his restorative baptism of faith and vigilance.
Photo: Wataru Umeda
---
With a warm amber lighting coating the air inside alongside one's conscious, Morelllo quietly glides onstage to a robust, burning embrace while immediately cutting into "One Man Revolution." The cozy trance, now broken with a wildfire lit burning bright inside, momentum builds into the chugging gathering thickness of "Union Song," Tom's big broad smile, eyes alive and inner strength resonates throughout as he seamlessly links to the first one lit inside himself by Joe.
Indeed, the future is unwritten as Joe spoke to Tom long ago as the latter brings out the diverse sonic gauntlet to do the former proud with "Maximum Firepower." While his harmonica flushes down and swishes around an unsavory known you realize is truth, this one is to wholly swallow. And like rides of all kinds, they stoke imagination as well as reflection with his tearing into his Australian heavy metal crush for "Dirty Deeds Done Dirt Cheap."
Not sticking to lore, new nuggets of a mine coming online, Tom enters the somber, haunting, dimly lit reflection of "Midnight In The City Of Destruction" to illuminate the crossroads to tackle and make that important choice that bleeds into the necessary rebirth and strength to gain from "House Gone Up In Flames" to the loss of his beloved Aunt Isabelle into sainthood as we all march along his unwavering calling, one that never loses pace and increases in resonance.
Like Scott, so delivers Tom in showing "What spirit is the man can be" with his closer making the path of choice cleanly evident and one to courageously take.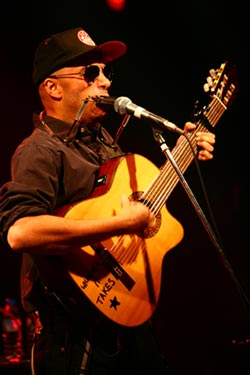 Photo: Wataru Umeda
---
SETLIST-CLUB QUATTRO-TOKYO 13/02/08
ONE MAN REVOLUTION
UNION SONG
MAXIMUM FIREPOWER
DIRTY DEEDS DONE DIRT CHEAP
MIDNIGHT IN THE EVE OF DESTRUCTION
HOUSE GONE UP IN FLAMES
ST. ISABELLE
FLESH SHAPES THE DAY
KING OF HELL
THE GARDEN OF GETHESMANE
GUERILLA RADIO
----------------------------------------------
LET FREEDOM RING
ALONE
THE ROAD I MUST TRAVEL
UNTIL THE END
Outposts of illumination:
www.nightwatchmanmusic.com
www.myspace.com/thenightwatchman
www.sonymusic.co.jp/nightwatchman
www.axisofjustice.org
www.ucfw.org
http://en.wikipedia.org/wiki/List_of_current_heads_of_state_and_government