By: Casey McDermott
Photos by: S.I. Wells
---
James Dean. Frankie Goes to Hollywood. The Plain White T's. A pretty disparate list, save for one common denominator: a simple cotton shirt. The tee is thought to have originated during the first World War, when soldiers in need of a comfortable layering piece sported it under their wool uniforms. Fast forward and nearly a century later it has become an icon of classic Americana. Used to promote countless products, events and causes, the t-shirt serves as a postcard of pride and often rebellion – Sharon Stone wore one to the Oscars. Nothing says I've been to a kick-ass concert more succinctly than a souvenir tee. And crazy though it is, they actually seem to get better with age. Simply put, there is nothing cooler or more punk rock than a beat-up old t-shirt.
Bearing all this history in mind, we approached a group of fashion design students at the School of the Art Institute of Chicago (SAIC) with a mission: to deconstruct our signature stay thirsty logo tee. Their only criteria? Keep the logo intact and create something entirely new.
Thus the T-Shirt Project was born. Our first two featured designers gave us their riff on the handbag. Check back next month for more submissions and an interview with SAIC Professor Tommy Walton on the evolution of the t-shirt.

---
Project: Bag with wooden handles
Student: Michelle Kendrick
Provenance: Chicago suburbs
Fashion influences: Hussein Chalayan, Fendi, Matthew Williamson, Comme des Garcons, Balenciaga, marc jacobs
Personal statement: I was really interested in the concept behind Stay Thirsty and was touched by the story about Ryan Licht Sang and his struggle with bipolar disorder. I am currently in the School of the Art Institute's Masters in Art Therapy program and spent last spring working with homeless women who were suffering from mental illness, many battling bipolar disorder. I know how powerful an outlet art can be, and believe strongly in its benefits. I love that the concept behind Stay Thirsty was fueled by Ryan's artistic drive and passion for all things creative.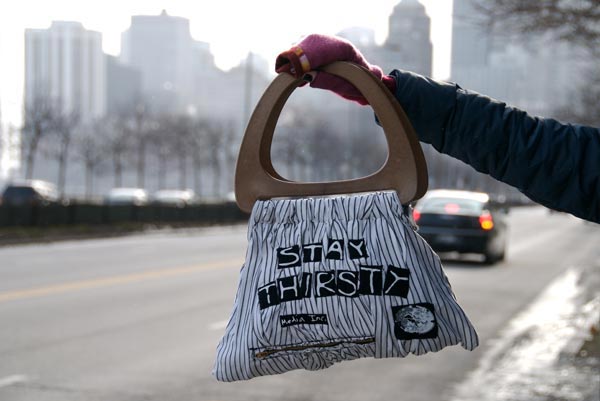 ---
Project: Leather handbag with abstract grid
Student: Keturah Michael
Provenance: Rural mid-west Illinois
Surprising fact: Grew up on a farm wearing dresses sewn by Mom
Personal statement: I was inspired by your November issue and tribute to Ryan Licht Sang. Since your magazine and manifesto were created by how Ryan lived his life, I felt my object should try to capture what Stay Thirsty is all about and trying to achieve. I chose a bag, seeming it to be the strongest object, and also a handbag is always needed.    A fun night handbag was my best choice and the shape of it was obvious to me. I love the logo with the manhole cover included and decided to imitate that in my bag. With an abstract grid similar to a manhole cover, it seemed perfect to display Stay Thirsty's logo.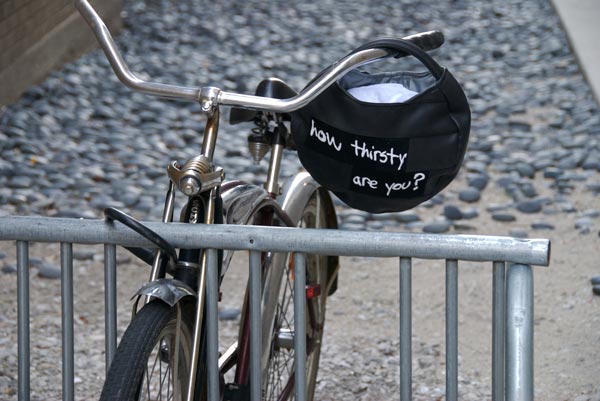 If your school or class would like to join the Stay Thirsty T-shirt deconstruction revolution email us at: info@staythirstymedia.com
More:
Thirsty : February 2008 : Thirsty T-Shirt Project : continued
Thirsty : February 2008 : "Iconalysis of the T-Shirt" an essay by Tommy Walton