Interview: I Joined Dan Sartain

"It's definitely right back in the belly of the beast, man."
By: Sarah L. Myers
---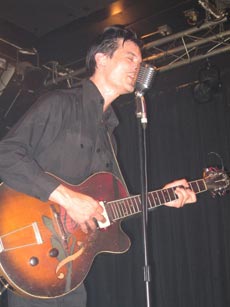 Thirsty first caught up with Dan Sartain late last year. Preparing for his first shot at Chicago's Metro, Sartain was opening for gypsy punks Gogol Bordello. Hanging out backstage, we talked about everything from horror movies to the influence of the surf guitar. Months later, Sartain is back in Chicago, this time at the Double Door and opening for the Detroit Cobras. Also sharing the bill with The Willowz, Sartain admits this tour is pure rock n' roll. Whether that's good for him, he's not sure. His dressing room seems to have a swinging door as Willowz come in and out. Sartain's set consists of material from his newest album, Join Dan Sartain (Swami). He's still rockabilly's hottest figure, and word is spreading - Sartain just came off an opening slot for the White Stripes, via a personal invitation from Jack White himself. Gearing up to return home to Birmingham, he'll begin recording his third album after some much needed R&R. From the blackened walls of the Double Door's basement comes our second interview with Dan Sartain.
---
The last time we saw you in December 2006, you were opening for Gogol Bordello at the Metro here in Chicago? What have you been up to since then?
Spent a little time off, went and did some stuff in Europe and then went out a couple times. Then we got a call to go do that White Stripes tour that was like consecutive to this one and that was pretty nice.
What was it like touring with the White Stripes?
Kind of like a job, yeah. Long drives. We're just in a station wagon, you know, my 1991 Oldsmobile, same thing I was in last year. Yeah, it went good. I couldn't tell (how the shows were) but then … I mean, I like Nick Cave, I think he's fucking awesome, and he did one of the shows with the White Stripes and we had a night off on the same tour and, like, they said the crowd wasn't that enthused by him. They said they were kind of cruel, actually. So that kind of experience never happened to us so we must be doing pretty good! And nobody's heard of me! No matter how young the people are at the White Stripes concerts, somebody there fucking knows who Nick Cave is, man.
When did you first go out with them?
Last month, the beginning of July, I believe. We've been gone a long fucking time. We go to Detroit next, then home. (If I don't take time off), I'll throw myself into another kind of work, like recording. There's only about two kinds, like shitty real work, touring, and recording. We're working on new material. I've got an eight-track I'm really excited about. I started the tour out with like a four-piece band, and then a three-piece band, and now it's just Dean (drummer) and I, and he's been through every instrument in the band. He played guitar first and then he was the bass player.
Were Jack and Meg pretty cool?
No, he had like twenty people around him all the time and they were like, "do not make direct eye contact with him. Don't shake his hand." Like total rock star … No, I'm kidding! I mean, he called me up personally to ask me to do the tour. It was spun from that Gogol Bordello show, I guess he was at that one. That Gogol Bordello dude, I didn't even meet the singer of that band. I didn't ask to go on that tour. I guess I met him, like, really briefly. I didn't see him again until the very end of the tour. He walked into my dressing room by accident! And then this dude who's like a fucking mega superstar, Jack White, like has time to call and talk. But I'm not judging Gogol Bordello. I just probably applied for the job and got it. Or my agent did or something. But (Jack) got to pick the bands. And he picked me! That dude doesn't miss any work, man. They would just like do a show at the YMCA or something before the show and stuff. Every day I saw Jack, I was like, "what did y'all do today? What was the fun thing you did today?" He's like, "ah, we played at a keyboard museum!"
You've had a bigger response in Europe so far, right?
Yeah, basically that NME thing came out of nowhere, and somebody heard it and took a liking to it and it came out of nowhere. And then the record label was like, fuck yeah, we gotta get this dude over here all the time! Then I went over there and like pounded it out a bunch, man, I was over there all the time. It was like crazy on my home life, and just like touring used to be like, fuck I'm going out on tour! I'm gonna be broke, what am I going to do? But then it was like, fuck I'm at home, I'm broke, what am I gonna do? I gotta go out on tour again! Where I can like, sleep in a comfortable bed! It was like that for two years, and just went over there all the time and just kept doing it and kept doing it, and then I really saw my hard work paying off little by little. Fought for it, played smaller clubs, sell out the smaller club. Get a little bigger, play a bigger place. And it's like, all me! There ain't no opening up for anyone! I'm doing it myself. It was fucking nice.
So you're driving to Alabama after tomorrow night?
Yeah, I ain't ready to go home! I don't know, like I was more grumpy and groany for home at the beginning of the tour, really. And now I'm like, I feel like I'm all punch drunk like the boxer in between rounds and both my eyes are swollen shut and I'm getting the crap kicked out of me, I'm just like, "let me up! One more round!" It's like, it's probably in my best interest that I do go home after tomorrow night! I'm talking like another month. I feel like right now I could do another month … It's definitely right back in the belly of the beast, man. Like all the guys on the tour are like skirt-chasing, drug-using, it's like a rock n' roll tour - graffiti on the walls and just fucking Pabst Blue Ribbon. It's back to that, for sure. It was definitely a weirder transition playing those stadium shows (with the White Stripes) but like we just went from such an extreme, like on the same tour - really professional, no one's really getting fucked up on the White Stripes tour. Catered food. It was alright, you know. Treated good. Now we're right back in fucking rock n' roll town.
MORE MUSIC: