Mice Parade
Mice Parade
Fat Cat Records

By: Will Lamborn
BUENOS AIRES
---
Mice Parade's self-titled album, the newest release from New Yorker Adam Pierce's group (an anagram of his name), charges out of the gates with a jarring drum fill, before settling straight into a pulsing rhythm over guitars alternately fuzzed-out and acoustic. Opening track 'Sneaky Red' thus quickly sets the pace for Mice Parade. This formerly instrumental one-man band has been adding members and vocal tracks since they released their first album in 1998, and Mice Parade marks their seventh release. Most have been based on spacious, rich textures created by subtly virtuosic musicianship, each one tipping the scales more or less towards loose improvisation or melodic pop structures. Pierce's frenetic drum parts are inventive without intruding on the somber tone that is so well established by stripped-down guitars and accompanying keyboards and vibraphones. Mice Parade most closely recalls the melancholic swells and fades of post-rock groups like Mogwai but with the organically-played-electronic aesthetic of Tortoise or The Sea and Cake. Call it post-rock or folktronica, but those who have followed them over the years will simply recognize it as a Mice Parade record.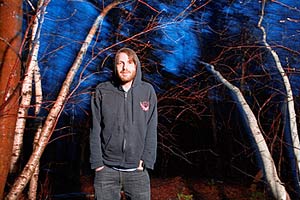 The album does not come together to make a particularly cohesive statement, but it has more than enough virtues to be an intriguing addition to the Mice Parade/Adam Pierce catalogue. Found within are many engrossing moments, bursting with creative musicianship. Sometimes they are little things, like a clever, dancing piano part buried in the background of 'Sneaky Red', or an echoed descending drum fill leading exuberant 'The Last Ten Homes' directly into the aggressively driving 'Snow'. The lovely, distantly ominous melody of album highlight 'Tales of Las Negras', is brought out by a guest vocal courtesy of Laetitia Sadier of Stereolab. 'Double Dolphins on the Nickel' (Minutemen fans I guess?) benefits from past-touring member and Múm vocalist Anna Valtysdottir's childish and haunting vocal contribution. Album closer "Nights After Fiction" opens with 90 seconds of a trance-inducing, repetitive acoustic riff before bringing the Mice Parade rock, complete with the requisite intricate rhythm section breaking back down to those fuzzy guitars and floating keyboard lines.
Turning to the vocals, Pierce's dry baritone is not particularly emotive; it sounds like Minus the Bear's Jake Snider or David Bazan from Pedro the Lion (not chosen just for the animal-in-band-title connection, I promise) but lacks tension. This vocal sound is appropriate in a way; it fits nicely into the musical backdrop along with all of the other elements. But at times it seems his voice is, well, just kind of there, while the best melodies are found elsewhere.
Mice Parade has elements of post-rock moodiness, but little of the build-climax-descend structure or over the top melodrama. It has touches of jamming and experimentation sans aimless noodling or "hey, look at me!" virtuosity. The record's sound snatches pieces from different genres, seamlessly patching them back together. But if the album as a whole does not add up to something greater than its constituent parts, to focus on that would perhaps be to miss the point when so many of the individual pieces and passages are good as they are.