By: Will Lamborn
from BUENOS AIRES
---
In Buenos Aires a young, growing community of musicians is combining traditional Argentine folklore with modern jazz and rock. Most folklore originated in the provinces of Argentina, a world away from the grit of the big city, and much like other traditional styles, for example flamenco in Spain, it is very tied to its place of origin; folklore from the northern province of Santiago del Estero is distinctive from its southern variants just as flamenco in Malaga has unique characteristics from a Sevillana coming from Seville.
Despite the historically localized nature of this music there is a trend among some Buenos Aires city-dwellers, who have long had a tenuous relationship and superiority complex with the provinces, to assimilate folk with free jazz, rock, and tango. These artists are bringing modern and essentially urban influences into this highly regimented music within the vibrant music and cultural scene in Buenos Aires.
Folklore began to coalesce in the late 1800's, taking form in the rural provinces alongside the now mythical argentine gaucho. Argentine folk music in its most traditional arrangement involves vocals accompanied by 1-3 guitars and a large, round drum called a bombo, not dissimilar in shape from a typical bass drum. By the turn of the century, folklore had made its way to Buenos Aires. And although most folk originated in the rural provinces, Buenos Aires did develop its own versions, which from the beginning had a more international flavor, influenced by the masses of immigrants and foreigners for whom Buenos Aires was their point of entry into the country.
Much like folk in the United States, Argentine folklore experienced a spectacular commercial and artistic flourishing in the 1960s. Tremendously influential songwriters such as Peteco Carabajal and Mercedes Sosa rose to prominence alongside more traditional groups like Los Chalchaleros, Los Fronterizos, and Los Quilla Huasi. Newly founded national competitions, including the now-staple Cosquín Festival, could springboard emerging artists to widespread recognition or provide an avenue for seasoned veterans to find their way back to the spotlight. Folklore is meant to be danced to, and as such the 60s also saw the popularization of peñas, large celebrations and concerts drawing the masses for long nights of music, dancing and wine.
Now a new generation of folk musicians in Buenos Aires is pushing the boundaries, creating a sound of their own that reflects the changing world they live in and the vast variety of music that they grew up on. To folk traditions they incorporate elements of other regional and international music; Brazilian crooner Milton Nascimiento and the poetic Silvio Rodriguez of Cuba stand comfortably beside rock n' rollers like Jimi Hendrix or the Beatles on lists of influences.
Many of these bands are just now getting started. Duratierra (Hard Land) boast 4 exceptional musicians, all yet to break 25 years of age. Their sound floats Micela Vita's voice over a seamless flow of impressionistic soundscapes formed by tasteful folk guitar and percussion.
Lo Péz (the Fish) include members born from the 60s through the 80s. They offer wafts of electric blended with vocal harmonies (all five member sing) and even the occasional electronic beat, but -as their website reminds- played in traditional form so that a dancer could jump out on to the floor and finish perfectly in time, 'without a foot left hanging'. Semilla (Seed) can rock as hard as anyone, and can do so comfortably within the bouncy chacarera rhythm. Maria Ledesma y La Cosecha de Agosto (María Ledesma and the August Harvest) often seek out lesser known folk tunes, played in impeccable arrangements featuring Ledesma's lovely Santa Fe-voice.
Folklore songs and techniques are like a vocal accent that indicates where home is. Chacareras from Santiago del Estero have a right hand rasgado unlike its southern versions, or the chaya of the Rioja province or the cueca tonada from wine-rich Mendoza are their entirely their own. These areas are primarily rural; there are not many big cities in Argentina and none that rival Buenos Aires in influence. Rising songwriter Topo Encinar once commented that as an underground musician from the small northern province of Tucumán it was only when he moved to Buenos Aires and met with critical success that those in his province began to notice.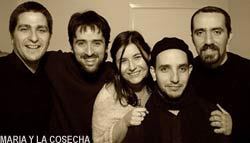 In a way these young musicians are re-imagining a cherished genre, working within those fine lines and apparent contradictions of maintaining the essential core of an art form while updating it to make it their own. While not so instantly jarring as growth periods in other ageless genres, like say Ornette Coleman braving atonality on The Shape of Jazz to Come (1959), Dylan going electric at Newport in '65 with Pete Seeger threatening to cut the electricity backstage, or more recently John Zorn mixing jazz, rock, surf, and punk into his fascinatingly spastic jazz-punk freakouts, it is nonetheless a musical evolution.
But the key to new folklore has most to do with assimilation of both native and foreign culture to create a greater whole. In Argentina, a country that at times seems to revolve around its capital city, this cultural mix is best represented within cosmopolitan Buenos Aires' urban enclaves.
These younger groups, many without record-label backing, are putting their own mark on a traditional and largely rural art form. The 60s boom is long past, and below the surface new interest is building. I was speaking with a friend a few months ago after a folklore concert in frehly hip San Telmo neighborhood. He commented, a bit perplexed, "What does being a 20-yr old from Buenos Aires have to do with folklore?" True, it does not seem necessarily logical, but it appears that the answer would be in fact a lot. Something is drawing them in, and what gets released out again reflects myriad sounds and places, while never losing site of home.


Artist Sites: (in Spanish)
Maria y la Cosecha de Agosto: http://www.mariaycosecha.com.ar
Semilla: http://www.semilla.info
Lo Péz: http://www.lopezfolclore.com.ar
Duratierra: http://www.myspace.com/duratierra
Topo Encinar: http://www.topoencinar.com.ar
Dúo La Chirlera: http://www.myspace.com/duolachirlera
Classic Folklore:
Peteco Carabajal: http://www.petecocarabajal.com
Mercedes Sosa: http://www.mercedessosa.com.ar
Teresa Parodi: http://www.teresaparodi.com.ar