Bring Back The Bards: Uproar at the Chelsea Hotel

Editorial
By: Sarah L. Myers
---
"Everyone around here is really upset about it."
Arthur, a resident of the Chelsea Hotel, is leaning against the counter when I ask him about the handwritten sign propped up behind the desk.
To prevent any confusion please be advised that Stanley Bard is no longer the managing agent of the Chelsea Hotel.
Perhaps in an effort to clarify this notice, the words Stanley Bard is no longer are in red ink.
Behind us a woman is completely distraught and in tears over the sign, begging a man in a blue polo shirt to take it down. When I ask about the man, Arthur jabs a thumb back in his direction.
"That's the guy that got him kicked out."
I'm back for my third stay at the Chelsea. The last time I was here, Stanley Bard spent a morning with me in his office, telling stories about the hotel, as he so often loves to do. This time he is no where to be found, though I am told he'll be coming in on Monday. I never saw him. What I did see was the same camaraderie and friendship among the tenants that absolutely never goes away. An odd, older man in the lobby leafs through dozens of pamphlets and newspapers, seemingly killing time before heading back upstairs to do more of the same. A young woman in leopard jeans and sunglasses brings a coffee back for him, greeting him so warmly you know she does this every day.
There's a huge commotion at this hotel, known for its atmosphere of creativity and bohemia. A little over a month ago, the hotel came under new management - BD Hotel moguls Richard Born and Ira Drukier. Stanley Bard was tossed out by the Chelsea's Board of Directors, and one of the new managers, David Elder, has even moved into the first floor. Elder spearheaded this loss of control three years ago with arbitration of ownership. Bard's father, David, purchased the hotel back in 1945. David Elder's grandfather, Joseph Gross, also bought a share. Julius Krauss was also an investor, leaving yet another heir to join the tug-of-war.
For 50 years, Bard has operated the Chelsea as a "mutual admiration society" - a place, truly, unlike anywhere else in the world. Krauss's daughter, Marlene, describes this as an example of how NOT to run a conventional business. The Chelsea, located at 222 West 23rd Street, lies right smack in the middle of one Manhattan's hottest neighborhoods. There's a huge amount of money to be made by renovating this piece of history. A full-scale face lift means repairing old plumbing (the pipes in Leonard Cohen's old apartment probably groan), fixing the layers of paint on the windows (you have to pull a little harder to release the shutters out to the beautiful garden), and replace the velvet, brocade sofas and loveseats (usually occupied by a painter, taking a break from the piece he's been working on since the night before).
Bard handpicked everyone who lives at the Chelsea. It is a privilege to live here. I've written out the list of personalities that lived and died at this hotel so many times I know them by heart. If you're not familiar, one crack of a book, one verse of a song, or one Internet search can tell you all you need to know. The people who live here want to die here. Many of them already have. The thought that Stanley Bard isn't really in charge anymore is too much for them to bear. This kind of unrest is commonplace in New York City, but not at the Chelsea. The fact that it has remained unchanged for so long is part of the charm.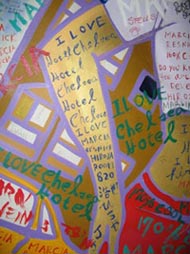 While Bard's methods are by no means modern, they work for their own reasons. The hotel still makes money. People still come from all over the world to stay here, and the ones who live here are paying for it - their rents reflect that. But he takes it easy on them, often accepting late payments or waiting until one of his artists receives a commission before paying their rent. The front desk ledger is an ancient, yellowing book that must weigh a thousand pounds. There's a computer, but there's also handwritten notes and scraps of paper everywhere. Bard's relationship with Dee Dee Ramone - who lived at the Chelsea off and on for years - was a perfect example of the dysfunctional landlord/tenant relationship. Anyone else would kick these people out onto the streets. Bard took them in.
Bard and his son David were technically fired in June. I say 'technically' because they both still show up to work every day. They're protecting the hotel they love so much, and have made it clear they're not leaving without a serious fight. Bard thinks Elder is spying on him, and occupants hate him. Residents are hanging protest signs off their balcony railings. Elder was even delivered a fish head at the front desk - the suspicious package prompted the arrival of the NYPD bomb squad. His picture is on a WANTED sign hanging in the hall, and someone is leaving shit outside his door. The hotel's blog, "Living With Legends," has received signs from all over the world, all saying the same thing: "Bring Back the Bards."
You don't mess with the Chelsea. Serious retribution lay ahead for whomever tries to disturb the spirits within its walls. It feels like the last straw. Coney Island High, CBGB's, The Continental, and now the Chelsea. I'm not naïve enough to think that things last forever. I'm just passionate enough to hope there are some places left to look to for inspiration.