By: Zarina Raja
From LONDON, U.K.
---
Think early 90s, Seattle. A grunge infested, heroin drenched dream - but more importantly- a state spitting out angry but talented girl bands. These bands were defined by political lyrics, girls on guitars and charismatic front ladies like Kathleen Hanna (Le Tigre) and the alluring, highly misunderstood Courtney Love (Hole). They stormed into the public eye, seething, screaming and slurring feisty lyrics into the microphone. This became known as the Riot Girl movement, it began to seep into the music scene, inspiring girls to imitate the baby doll/kinder whore look that dominated the movement. This look was saturated in irony - cute dresses, lace encrusted tops, patent dolly shoes and pearls- all the while cloaking the politics and feminism that lay at the heart of it.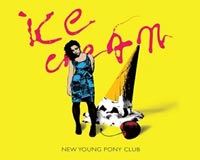 By the mid 90's, however, Brit pop had taken over from grunge music. Bands like Blur, Oasis, Pulp, Kula Shaker and Supergrass wiped away any traces of Riot Girl bands and conquered the mainstream music scene. Although female led bands like Elastica and Sleeper did well in the 90's, it was a largely male orientated scene just as it is today.
Brit Prop was just a fond memory circa 2002. A new stream of bands had began to rain- then pour down- drizzling themselves over the radio, music channels, clubs, bars and inside shops. With every year that went by, more and more boys seemed to be picking up guitars and spray painting on their drainpipe jeans. Earlier bands like The Libertines were trendsetters, unintentionally creating a sound that would go from fresh and poetic to boring and uniform five years later. By 2005, NME was festering with bands such as Razorlight, The Killers, Kaiser Chiefs, The Rakes, Hard-Fi, The Futureheads, Maximo Park, The Kooks, The Paddingtons and many more. Music that was once 'individual' had now become uninteresting and repetitive, excluding a few exceptional bands such as Interpol, The Strokes and The White Stripes. Indie had lost its true meaning, it had become repetitive and uninteresting, with exceptional talent like Karen O, PJ Harvey and Bjork only lurking in the shadows.
Seeing Beth Ditto at the top of the NME 'cool list' in 2006 signified an exciting and much needed change in the industry, a change that had been long overdue since the early 90s when Courtney Love bullied her guitar with forceful fingers and chipped nails, whipping the female grunge scene into a bleach-blonde-red- lipped frenzy. It's as though all the girls in hiding had been released on mass - guitar, keyboard and eyeliner in tow.
London is now heaving with talented and brazen female musician's, minus the aggression and heavy guitars of grunge. Firstly, there's The Gossip, led by Beth Ditto, throwing around an incredibly loud, feminist and gay vibe, smothered in colour and charm and roaring into the audience like a ravenous lion, sharpening her teeth and waiting for a juicy feast. The Gossip was completely sold out for their London dates, taking on venues such as Brixton Academy and the KOKO. In every performance, The Gossip throbs with an infectious energy that spreads into the crowd. Ditto marches onto the stage and wiggles her way through each track with confidence and an amicable arrogance, building up to 'Standing in the way of control' in which Ditto's enormous voice merges over a disco beat and produces a song worthy of being called an anthem.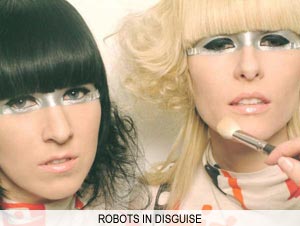 Next in line to The Gossip (and possibly going to overshadow The Gossip) are the Brazilian band CSS. CSS seemed to have initially formed with no serious musical aspirations but have stumbled across a sound that is cool, unique and arty. Lovefoxxx, (lead singer) is sassy and sophisticated, striding through live sets like she's elegantly drunk at karaoke, dancing around the stage looking effortlessly cool. Keeping in with the 'new rave' indie vibe, is London's finest 'New young Pony Club' with their provocative track 'Ice cream', purring lyrics like 'Let me give you what you'd like, I can make your mouth run dry, drink me like a liquor, c'mon and dip your dipper,' cooed by front lady Tahita Bulmer over a range of 80's synths and dance beats. Leading away from the 'new rave' scene are electro due Dee Plume and Sue Denim of the fantastic Robot's in Disguise, obviously moved by 80's icons such as Blondie and early Madonna. The riot girl-esque tracks would impress Courtney, who would be jumping and screaming to 'G.I.R.L–it's not a dirty word.'
More typical to traditional indie are bands such as Metric, Bat for lashes, Noisettes, The Licks and a little more rockier – Be Your Own Pet. Swarming over the pop industry are the likes of Amy Winehouse, Lily Allen and Kate Nash who have ripped the spot light off of image obsessed barbie bands and given pop some credibility.
The music industry has been injected with a high dose of estrogen, strategically stabbing out the dull, tedious sound that constantly lurks around us. Fluctuating between new rave, electro and indie, these female groups are sizing up their male competition with painted eyes and a greedy expression, prepared to restore some femininity and creativity to music and possibly establishing the female icon of the naughties.