The 2007 Joey Ramone Birthday Bash
The Fillmore at Irving Plaza
New York City
May 19, 2007

By: Sarah L. Myers
---
A sold-out crowd celebrated Joey Ramone's 56th birthday at New York's Fillmore May 19th. Paying tribute to the late singer were friends and family, including The Bullys, The New York Dolls, Jayne County, The Chesterfield Kings, and Joey's brother Mickey Leigh.
Those are just the minor details and a few of the names on the list. Leigh once said he began hosting these Birthday Bashes so people would have something to do on an otherwise somber day. Joey was promised a huge 50th birthday party, but passed away just before it could be celebrated. The party went on anyway, and the Joey Ramone Birthday Bash was held May 2001. Six years later his spirit still hangs over the Fillmore. The highly emotional night had fans singing back to his image like he was right on stage, chanting "Hey ho, let's go!" and laughing at old family photos and interview footage. It was an evening of all things Joey, uniting Ramones fans from all over the world as well as those in his native New York City.
The Bullys kicked the night off with a performance that defended their "Best Punk Band in NYC" title. The band is part of an entire East Village camaraderie that includes the original Punk Magazine, fellow punk band The Cyclones, and The Continental, a club that served as the center of the NYC punk scene before ending its live music policy - just another blow a few months after the closing of CBGBs. Hailing from Rockaway Beach, The Bullys are real New York City punks in the tradition of The Dictators and The Ramones. Songs about fast food, fast cars, and cheap beer litter their new record, BQE Overdrive like trash on an off ramp, and they put on a live show that always appears seconds away from a fist fight.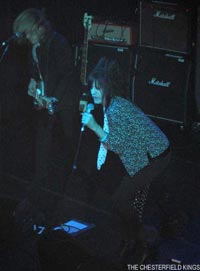 The Chesterfield Kings are a huge favorite on the underground garage scene, and represent Joey's favorite era: 1960s rock n' roll. Front man Greg Provost, though from Rochester, looked like he came right from Carnaby Street - dripping in scarves and leopard print, sky-high rooster hair and platform boots. He wove through the crowd and jumped up on the wings of the stage, kicking up his heels and tossing around his tambourine. The best moment in the set came with "Angeline", one of the Kings' collaborations with Johnny Thunders, another sorely missed figure that night.
Slinky Vagabond - the new band featuring Blondie's Clem Burke, fashion designer Keanan Duffty, David Bowie guitarist Earl Slick, and Glen Matlock of the Sex Pistols - had the best spot on the bill: opening for the New York Dolls. It's a spot Matlock could easily have been in 30 years ago, had the Dolls kept it together (or the Pistols for that matter). Circle pits started forming as soon as Matlock yelled, "I think you all know this one!" and the swirling intro of "Pretty Vacant" washed over the crowd. A collective snarl of "we're so pretty, oh so pretty" made up the chorus, proving the nasty irony just gets passed down through the generations in attendance.
Tyler Fyre and his Lucky Devil Circus Sideshow provided the between-sets entertainment, showcasing Ramones songs in appropriately sick fashion. Miss Saturn hula-hooped her way through "Surfin' Bird", and "I Wanna Be Sedated" had the group fighting their way out of straightjackets. There was sword swallowing, block heading (Fyre took an electric drill in the nose), and typical sideshow gross-outs. Fyre and his cast mates are just the type of cretins and pinheads that make up a Ramones audience. It's a known fact that the band grabbed their catchphrase "Gabba Gabba Hey!" from Todd Browning's Freaks, and it's this chant that brings us all together - "We accept you, one of us." The Ramones closed all 2263 of their shows yelling this with the crowd as Bubbles the Pinhead jumped around onstage.
One of the most touching moments came in the middle of the night. The first notes on the glockenspiel opened "Danny Says" as the venue darkened and a video in tribute to Charlotte Lesher came over the screen. A clip of Charlotte on Geraldo singing "Beat on the Brat" filled the break with humor, but it was difficult to hold back tears as more photos flashed in time with the song's crescendo. Joey and Mickey's mother was a tremendous supporter of their careers, and had helped organize each of the Birthday Bashes. She appeared in several Ramones documentaries, showing old photographs and praising her two boys. It was in Charlotte's art gallery that Joey, Tommy, Johnny, and Dee Dee rehearsed "Judy is a Punk", and where Joey worked and slept on the floor. She played just as much a definite role in the Ramones family history and was very much appreciated by their fans for that. Charlotte passed away in January at the age of 80.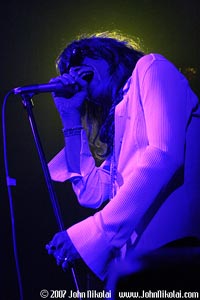 After a huge buildup, the New York Dolls took the Fillmore stage for their headlining set. It was a great rock n' roll moment, not just because they're back together after first forming 36 years ago, but because every single person in the crowd was experiencing something different. Some had seen them back at the Mercer Arts Center in 1972, others at their reunion at London's Meltdown Festival in 2004, and others for the first time that night. It's this timelessness that makes them one of the greatest bands of all time.
The Dolls haven't lost an ounce of their cool over the years. With any reunited act there are expectations, and the Dolls recognize and exceed every one of them. David Johansen is just as sexy and elegant. The fox from The Old Grey Whistle Test is still there, wearing black shades, prowling the stage like a cheetah and flirting with the audience. His chemistry with guitarist Sylvain Sylvain hasn't missed a beat. They've still got it, and the crowd still loves it. Every single song was there: "Personality Crisis", "Pills" ("I said, we're going to do some fucking Bo Diddley songs!" Sylvain yelled), and the exquisite "Looking For a Kiss". Only a few moments that night rivaled the frenzy brought on by David Jo declaring, "When I say I'm in love you best believe I'm in love, L-U-V."
While every band lent something to the evening, filling it out like one of those "all-star" nights Joey used to host at The Continental, it was the songs played especially for Joey that reached every last person in the room. Jayne County singing "I Wanna Be Your Boyfriend", Syl and David Jo sharing a microphone on "You Can't Put Your Arms Around a Memory", and Mickey going solo for the first half of "Something to Believe In". It was Mickey's entrance onto the stage that truly reminded us what all of these performances were about. His version of "What a Wonderful World" concluded the evening in a heartfelt tribute to Joey and Charlotte. Joey sang this on his solo album, Don't Worry About Me, which Mickey helped complete when his brother passed away. In a small but not unnoticed gesture, he kissed his hand and reached upward at the end of the song before thanking the crowd.
The attendees and group of performers at the 2007 Joey Ramone Birthday Bash included Punk magazine founder John Holmstrom, Ramones art director Arturo Vega, and tour manager Monte Melnick. Producer Ed Stasium, along with Clem Burke (in his triumphant return as Elvis Ramone) also performed throughout the night. Original member Tommy Erdelyi sang "We're a Happy Family" and "Cretin Hop." These were all Joey's friends and band mates. The sense of pride in being a Ramone, and being part of their extended family, was palpable. Everyone at the Fillmore that night was a Ramone. Joey would have been proud.
JOEY RAMONE AND MICKEY LEIGH - "ON THE BEACH" - SIBLING RIVALRY
---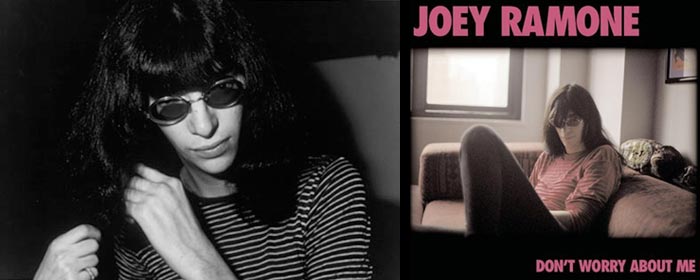 Joey Ramone
May 19, 1951 - April 15, 2001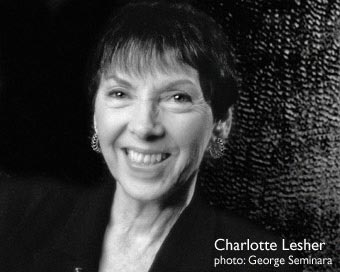 Charlotte Lesher
1927-2007