The Thirsty 7 with Emily Haines
By: Brandon Forbes
---
Canadian chanteuse Emily Haines is no doubt one of the busiest vocalists in indie rock. Sharing duties as front-woman for Metric, contributor to Broken Social Scene, and burgeoning solo artist, Haines' schedule can only be referred to as hectic, a fact that makes the greatness of her art stand out even more. Haines recorded the mellow, piano-based ballads of Knives Don't Have Your Back, her first solo record, over the course of four years in six different studios. Released in the winter of last year, Haines enlisted the likes of Sparklehorse drummer Scott Minor, Broken Social Scene's Justin Peroff, Metric's Jimmy Shaw, Stars member Evan Cranley, and the Tokai String Quartet to flesh out the songs, a group she calls the Soft Skeleton. On Knives, her minimalistic compositions take on a layered complexity that shifts between fragile beauty and unabashed social criticism, with the highlights coming from tracks like "Our Hell," Crowd Surf Off a Cliff," and "Reading in Bed." As striking as Cat Powers' Covers Record and as moving as Iron & Wine's Endless Numbered Days, Haines' Knives is a modern contemplative classic and a record that has received much attention on my personal stereo since its release.
I recently caught up with Haines, who has been working the last few months on the forthcoming Metric record, to talk about her late father, her favorite records of the moment, and the eerie genius of the video for "Doctor Blind."
---
1. From the album design to the name of your backing band, there seems to be several nods to your father's career with "Knives Don't Have Your Back." How do you see your music as related to his?
My father Paul's enthusiasm for music was unbelievable.  When I was a kid, he was always playing something obscure and insisting we all shut up and listen.  He famously made mix tapes which featured  impossible combinations of Robert Wyatt, Phil Minton singing William Blake, Curlew, Albert Ayler, something by R.L Burnside plus a couple  instrumental numbers by a Himalayan tribe or something.  If he really wanted you to appreciate a particular  song, he'd put it on the tape three times in a row - very  aggressive. Since he died I've seen him referred to as a musician  in a lot of publications.  He wasn't, but I  know that would make him happy.  He was a musician with his ears!   More than anything, I inherited his ability to love of all kinds of music, it has informed everything I've done so far. And his writing is unlike anything else I've ever read. My family is publishing a collection of his work this year.
2. The haunting "Crowd Surf Off a Cliff" seems to be about losing yourself in popularity rather than facing up to individual loneliness. Is this a confession of sorts or is it about something else, or someone else, entirely?
I like your take on it, although I can't say for sure if I'm writing only about myself or somebody else.  I think the protagonist in the song is a composite of a few people, mostly drifters.
3. There is a strong feminist critique that runs through Knives Don't Have Your Back, especially in "The Lottery" and "The Maid Needs A Maid." Could you talk about this criticism and how it led you to the latter song's ingenious riff on Neil Young?
I read somewhere recently that feminism equals fighting nature.   I have a career but no babies so that must be true! I bet there are a few environmentalist feminists who would disagree though (laughs). I've noticed that when I write anything from the perspective of a girl it is automatically read as feminist commentary.  I don't really mind but I think it's interesting.   Most of the guys I know relate to my lyrics 'cause we're all asking similar questions. They understand what I am striving for, some kind of '60's sexual utopia that doesn't exist and probably never did. We all have trouble with love because our first love is ourselves.  Our generation was taught to be autonomous and it's driving all of us crazy.  The good news is I think I maybe found my boy-wife, and I hired a maid who uses only  environmentally safe cleaning products (laughs).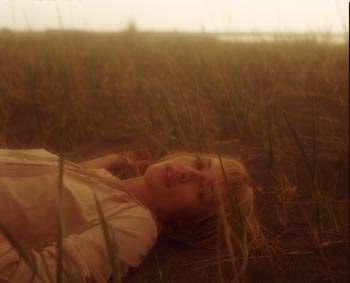 4. The video for "Doctor Blind" was definitely one of the best music videos of last year. What's your interpretive take on the relationship between the video and the song?
The director's name is Jaron Albertin. We hit it off right away when  I explained to him my attacks of supreme anxiety in giant all night  drug stores. Turns out a lot of people feel the same way - I'm not alone.
5. The last several years have seen a huge explosion of popularity for Canadian based bands. Being a member of three different and successful musical ventures based out of Canada, including your solo effort, how do you see the current relationship between Canadian and American art?
All I know is everybody used to be embarrassed to say they were Canadian when they went to the states and now they're not.
6. What three records have you worn out the most recently and why?
I really want Can's Tago Wago to influence the next Metric record by osmosis. Rant in E-Minor by Bill Hicks has been getting a lot of play. If only I could be as good as this record at the end of "Dead Disco"! And finally, Radio Tisdas Sessions by Tinawiren is: So. Fucking. Good.
7. During your live show in Chicago, there were clips from Guy Maddin films playing on-stage while you performed. What films of his would you recommend for the uninitiated?
The best three are "The Saddest Music in the World", "Careful" and "Cowards Bend the  Knee".