Left to Right: Joe Coleman - I Am Joe's Fear of Disease, Outside the Chelsea Hotel, Sarah L. Myers, Joe Coleman, Whitney Ward
---
Room #117, Chelsea Hotel

If there is a logic to this life, then I'd like to know what it is. I'm at the Chelsea Hotel in New York City again. I've taken a lot of drugs in his hotel. Now I'm going to get off drugs in this hotel. Strange isn't it?
Dee Dee Ramone
Chelsea Hotel, 2000
I've been in this hotel for a couple of nights now. I'm in room #617, five floors up from what is now quite possibly the very room where Sid killed Nancy. For years hooded figures would hold rituals and Black Masses for them on the first floor - a "dope supermarket" where Dee Dee would go cop from Rockets Red Glare. I went to Dee Dee's room tonight, #117, and found worn stickers on the splintered door that read "I stop for photographs." Whatever it is about this place that got to Dee Dee is now getting to me. I don't want to leave; and while it's only me in this room, I don't quite feel alone. I've brought someone with me, but where he is I can't say.
It's true that this hotel may be haunted. It's always said that there are energies or presences in the halls; that an environment this saturated with creative history would almost have to be pulsating with the spirits of those who brought it to life. Dee Dee is in here. I can hear him when I run the water in the shower. Maybe the Chelsea issues that type of paranoia with the room key. I turn off the lights wondering who slept in this bed and who died under it. Johnny Thunders was said to have died curled up with his guitar under a wardrobe in New Orleans. His name is on a painting on the second floor, completed by Hiroya, Dee Dee's old friend and neighbor. Hiroya did two paintings for Dee Dee, both of which hang throughout the wrought-iron stairwells.
I'm here to meet Stanley Bard, owner of the hotel, to talk about the Chelsea's history. I'm not here for Sid. I'm here for Dylan Thomas (#205), Leonard Cohen (#424), and Mitch Hedberg (#330). I'm here because I've been chasing this feeling since I discovered rock n' roll. The Chelsea was always my final stop - not in the way it was for Dylan Thomas, who "from here sailed out to die," as the plaque outside the door reads - but in a way embedded in the heart of everyone born loving tragedy and romance. When I meet Stanley Bard down at the desk, he is nothing like the sour demon-headed figure in Dee Dee's paintings. Bard tells me they had a love/hate relationship, adding that Dee Dee was crazy and lived in the Chelsea off and on for many years, completing his novel Chelsea Horror Hotel while living in room #831.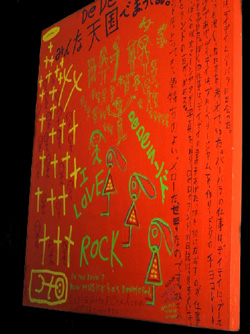 Hiroya painting, Chelsea Hotel
I want the unrestricted tour, but settle for walking each floor alone, picking apart the most minute of details and turning over every last stone. On two separate occasions I spend at least an hour dissecting one of Hiroya's murals on the second floor. The huge canvas has since become a yearbook of sorts, with passing acknowledgements ("I love room 802," "202 gives good head," "10-14-86," etc.), and its most popular alumni are all immortalized with crude, bold strokes of red and blue paint. Johnny Thunders, Legs McNeil, James Chance, and Sid Vicious. Sid is all over the hotel. The fifth floor fire code reads "Sid Vicious RIP." "I saw Sid fuck Nancy @ the Chelsea!" is scribbled on canvas.
The key to room 100 is now tacked inside one of the glass cases by the desk. The room itself no longer exists, having been deconstructed and reshaped into several different apartments. I can't stop myself from seeing those pictures of Nancy in my head, folded under the sink in her underwear, dead after taking a knife in the gut. But the tricycles, rocking horses, canvases, and end tables propped up in the hallways erase any dark thoughts I have. The Chelsea's inhabitants are its heart and soul. They paint their front doors, hang antlers above entryways, and cover wood with cracked photographs and yellowing wallpaper.
Sunday night I walked through St. Marks Place with Legs McNeil, smoking cigarettes and making conversation. We stopped by Trash and Vaudeville to say hello to Legs' old friend, Jimmy Webb, owner of the joint and quite the character on the punk scene himself. As they talked about Hilly Kristal, Leee Childers, and Debbie Harry, I couldn't have looked more enthralled. Legs had told me my enthusiasm was refreshing, and I wasn't embarrassed by my adoration. The people I'd read about in books for 12 years were alive and laughing in front of my eyes. Sitting at CB's Gallery having a beer, I hear a familiar voice. Behind me Hilly Kristal is coming through the door, settling himself on one of the many couches for a nap. Joan Jett is outside the window, filming an interview and discussing October 15, the night CBGBs will close forever. I was lucky enough to see a show Saturday night - The Vibrators.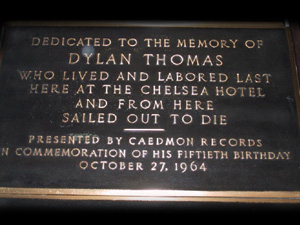 Dylan Thomas memorial outside the Chelsea
My last night in New York was Joe Coleman's. His two-floor exhibit, which he affectionately called "my church," was being celebrated as Joe saw fit- with burlesque, vaudeville, punk rock, and country music. Bambi, Queen of Coney Island, took the stage as a lobster, suggestively pulling off her claws to "All of Me", and finishing grandly by covering herself in butter (iridescent glitter). Hank III spooked us all with his voice, so reminiscent of his grandfather's Joe confessed he felt Senior in the room; and his spirit wasn't the only one. Several songs went out to GG Allin, whose brother Merle was in attendance. Later I heard Joe say "If GG were here now, I think he and I would be great friends."
Joe tells me we bring our own ghosts. Sitting in the back of a cab on my way back to the hotel, having spent the night with Joe and his wife, Whitney, I almost tell the driver to take me to my Chicago address. If I've adapted that quickly, I've impressed even myself. Does it already feel like home? Looking around my room, at these scalloped bookcases (empty, but once packed with novels by Judith Gould - this was the writer's guest room), I want to stay. Walking in at 3am, the lobby feels so much like mine at home, even more so when the desk attendant recognizes me. When I remember that I don't live here, I both deflate and rejoice at the same time. I'm not ready for the change of a new environment, but at the same time, it's all I can think about.
I wanted to sleep surrounded by the memories of my heroes. It could have been a self-fulfilling prophecy, but the two nights I spent at the Chelsea were the most restful I can remember. I did bring my own ghosts, but those already here formed around me as I turned off the lights. Even now, sitting in the lobby, watching the clock as my last hour painfully falls away, I feel settled. I feel so at home I almost want to cry, but I can't stand the thought of losing my cool in a place built on a foundation of it. I know I'll be back, and I'll make even more memories next time. Right now there are just too many to put my arms around.
Chelsea Hotel
New York City
October 2-4, 2006


Left to Right: Art hanging in the lobby at the Chelsea, Figure in Joe Coleman exhibit (Tilton Gallery), CBGB