KOI 8
By: Casey McDermott
---
It's a rainy Tuesday afternoon, and inside the clean white walls of Koi 8 James Liu is hard at work on some flash animation. It's a slow day and, frankly, he seems glad for the company. Intimate and warm – what a realtor would call "cozy" – his small store is on Chicago Avenue somewhere between West Town and the Ukrainian Village; the answer varies depending on who you ask.
Koi 8 is the realization of a vision that began when Liu was a kid working for his parents at their Chinese carry-out. He dreamed of a place where art, design and music could converge in a shop that celebrates the DIY lifestyle. Formerly the top IT guy for a small publishing company, he suddenly found himself out of a job when the firm was bought out and knew it was time to make a change. Liu heard about the space through a friend and within weeks had signed a lease, contacted a few vendors whose work he admired and continued work on his own lines. He now functions as owner, head designer, chief buyer, marketing director, sales associate, and cashier. Koi 8 is not yet two months young. Liu is its sole employee.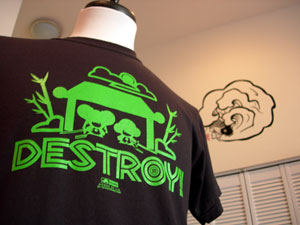 "It's really just an extension of me," he said, laughing at the sheer audacity of such a bold undertaking. He has long been inspired by art in all its many forms, but trapped in the corporate world felt a great loss at not having a place to channel his creative energy. Getting laid off, he said, was a blessing.
"It has allowed me to live a life that truly lives. There's nothing greater than doing the stuff you want to do that makes you happy," Liu said.
Liu is not the only one getting happy at Koi 8. In the short time since its inception the store has already developed a loyal following of devotees to its groovy, quirky wares. Most of the store is populated by apparel, and it is truly a t-shirt lover's wet dream – local lines like Evil Kitty, Teetsy, Novem, Urban WarFair and Ricardo Gamboa are peppered with original graphics, as well as others inspired by classic rock bands. The real standouts here, however, are Lius' own two lines. FIZZIEFUZZIE is a range of cotton tees and buttons that features various simple characters with a strong musical influence. One such design displays the small icon of a lion wearing a shirt accompanied by the phrase "There is a light that never goes out." Liu loves this one best.
"It's my Smiths tribute," he pointed out, grinning like a proud papa.
His other line, House of Liu, has a much deeper back story, following the adventures of a young Chinese girl and boy in the last dynasty. They are out to exact revenge on the Manchu government who burned their house to the ground, and James loves the idea of these two little kids so unafraid of rebellion. Their likeness is currently kicking ass on t-shirts but has gotten such a great response that he hopes to soon expand the line.
The art at Koi 8 is not limited to clothing. There is always music playing in the store (mostly indie rock, electronica, hip hop and the occasional punk rock) and Liu dreams of holding informal concerts but fears the neighbors might rise up against him. He also held a very successful show a few weeks back for a local artist who goes by the name Revise CMW, and sold several paintings. Other work by Revise CMW hangs in the store now, and its graffiti flavor is the perfect foil to Liu's eastern-minimalism meets DIY-cool aesthetic.
"Mostly I just wanted to create a home for creative people to share their work, maybe help them get more visibility and just give any support I can," he offered, shrugging like this is really no big deal.
So what's up with the name?
"Well, in Chinese and Japanese culture Koi are symbolic as creatures that succeed under extreme conditions," he said. "Perseverance, you know?"
As for the '8', "there was already a restaurant called Koi," he admitted, "and eight is the luckiest number for the Chinese. I figured I needed all the luck I could get."
Liu must be a lucky guy. Koi 8 is already swimming.