Goldrush
The Heart Is the Place
(Better Looking Records)

By: Brandon Forbes
---
Adversity is a fact of life. Everybody will eventually have to face losing everything from a place in line to a job to a loved one – it's the reality of being alive. While many may flippantly call out "que sera," and some will hit rock bottom (usually with glass in hand), others take the emotional challenge head on. And, for some reason, it seems Brit Pop outfits are always around to help. In the fall of '98, British band Embrace, now famous for crafting the World Cup theme song of last year, put out a little-hyped record entitled The Good Will Out that helped me through a rough semester in undergrad. Built on intense pop melodies and self-important harmonies, what would at any other time have been billed under pomp and circumstance, helped turn my frown…well, you get the picture.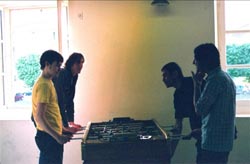 For me, Goldrush's latest LP could easily step in and fulfill the same role as Embrace did those many years ago as my own personal Brit Pop Pick Me Up. Though currently adversity free and counting (fingers crossed), The Heart Is the Place creates a dig-your-heals-in mood that will no doubt be of use once those blue skies go ashen. No doubt this comes from the rough times the band went through before recording the record: quitting band members, moving band members, and burned out songwriting. To fight the funeral-like atmosphere, the band decided to challenge it head on. The theme song of this anti-dirge is clearly "Every One of Us", an everyman anthem for getting on "in this impossible world." Frontman Robin Bennet promises "there must be a place for everyone of us" through a squealing guitar hook and pounding percussion, and soothes the broken-hearted that "she'll forget about you and you'll forget about her." Incipient Marxist treatise "We Will Not Be Machines" offers a rallying cry for blue collar workers everywhere and harkens to the alt-country roots of the band. The drum heavy chorus drives home the humanistic mantra of "I will not be a machine" while background harmonies take it a few steps up. Goldrush gives a major nod to Wilco on this track, and this homage is noted throughout the record: rough around the edges vocals, occasional guitar feedback dalliance, and occasional dissonant orchestration all seem to sniff of Jeff Tweedy. But The Heart of the Place is much more hopeful than any Wilco record and harkens back more to the no depression era song craft of Uncle Tupelo. A preoccupation with death is noticeable in song titles like "Can't Give Up the Ghost", "Goodbye Cruel World", and "Heaven's My Destination", but all three, true to no depression flair, take the dark subject matter and reinvent it as a positive tool for combating the emotional down and outs. So, like all those country hymns dug up by Uncle Tupelo, the depressing titles are reinterpreted as joyful moments. The beautiful, acoustic driven "Can't Give Up the Ghost" consoles the listener that "If you think this is the end, you're not even close", and the keyboard blips, string arrangements, and xylophone notes of "Heaven's My Destination" uplift the soul while sounding fit for a Snow Patrol single but without the juvenile lyrical preoccupation with smarm. Book ended by instrumental opener "Aperture" and closer "A Joyous Final Chapter," a lyrical remake of the first track, the motivational message of the record is clear: you can get through this.
It should be noted that after Embrace's opus of 1998 helped me settle my bit, I put it on the shelf. Though not getting much play since then, I have never been able to part with it – that's what you get with something that stands with you in troubled times, even if it is only a CD. Goldrush's latest can be that something if you need it. The trick is to realize, though, that if you're waiting for that adversity to strike, maybe you should just sit back and enjoy the moment. The Heart Is the Place captures this moment of triumph, of hopeful anticipation, as good as any.