"Good to the last drop as this happy family finale goes full automatic"

NEW STARTING OVER
FC FIVE
VERSUS THE NIGHT

Saturday, December 9th, 2006
Club Cyclone, Shibuya
Japan

By: Michael Lara
---
"You'll see, you'll see tonight! I'll be watching…Alright!" - indelible words driven in all senses within Fugazi''s juggernaut "Public Witness Program". Tonight's program bears an unbridled beautiful witness to a triple bill uniting three pillars of the scene in Japan - Osaka's New Starting Over alongside Tokyo's FC Five and Versus The Night. Original lineup act Oceanlane's late cancellation causes a temporary damper, but all step it up in this most mental-freeing mayhem affair.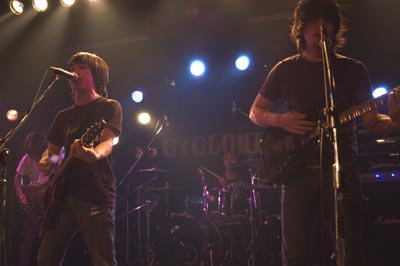 The placement of Versus The Night as closer further fuels the anticipation and high expectations for this fevered final chapter of VTN, which swells in atmosphere, whether above ground or within the intimate underground confines of Cyclone. Increasingly, sweat pours as laughter abounds with eyes wildly alive amidst racing hearts where multiple vocalists soon move about in the smoke. Knowing this is the end for some, communal courage is seen in faces joyfully embracing this change in full automatic. The huge project screen hides a stage bathing in surfing footage.
Cutting the intensifying air of anticipation while the screen raises, NSO's Doige (vocals, guitar), Eiki (vocals/guitar), Shun (bass) and Peki (drums) go full bore into seven slices made to order. Launching with wide open eyes into "Blind", then sliding into "We'll Stand When The World Starts Over", a pummeling pulse is firmly set. Showing a consistency in intensity likened to their slot at Taste Of Chaos Japan 2006, their material does all the talking as they conquer the biggest challenge as the icebreakers - wasting away the initial nervousness of those inside with their coalescing blowtorches - as a fire now burns strongly, building beautifully beyond their departure as the waves return, drinks clink, smokes light, conversations flow and empty spaces are no more.
In a massive wave of distortion and cheers, FC Five "united" majestically open their family table set feast with long resonant deep dishes throughout with swashing strokes that lead to the birth of "Strange Days" for a long feed for all. There's nothing strange here, as Tomy (vocals), Hiro (guitar), Tokutaro (bass) and Kim (drums) are awash in smiles and sweat as bodies continually climb onstage and vault off as a pit remains constant. A full bonfire is in effect as they tear through a fan favorite, the marching skipper "My Strife". Tomy is noticeably moved by Five's famously intertwined friendship with Versus The Night, a mutual badge of honor that is clearly seen in all eyes present, with the bands crowding the stage with big grins a constant. "Bloody Nightmare" charges in its pumping, with everyone duly fisting its stereo chorus, engulfing the entire landscape that cleanly closes with "Come To The End" with screams of "One more! One more!" It echoes off the walls as they warmly bid adieu for their dear brothers VTN.
The last surf session on screen lasts just a few minutes. The waiting is indeed the hardest part and all are ready to get off upon VTN's final countdown. Huddling like a team ready to execute its strategy amidst the hungry vocal masses, Shoichi (vocals), Yoichi (bass), Adam (guitar, vocals), Aki (guitar, vocals) and Shintaro (drums) break as the screen rises to a mutual frenzy embrace. Fashion marks add a bonus to these released rascals as Adam sports a Bjorn Borg-era headband with Shintaro complimenting with his Jazzercise University t-shirt. VTN's humor and execution in their craft further explains the fun to be had amongst the sea of welling eyes - inside to enjoy this in full one last time. The machine gun drum led "Johnny Alpha Is Dead", complete with its breaks, has bodies flying about and the first of many unplanned additional vocalists climbing onstage before jettisoning themselves off into waiting hands and bodies up front. No matter the track, this is a vocal camp throughout 12 cuts as all choruses mark the stronghold inside, whether in chiming bender "Her And Vermillion" or "The Mistake". Perhaps setting a record for the number of fan guest vocalists, this is a celebration blooming full. Abreast sayonara speeches of humor and gratitude from each, particularly a very emotional Shintaro (known as Shin-chan) within his turn, to the loving amusement of his mates. The finale for their faithful in Japan catapults with a rapturous reprise to "Wood And Gold", firmly acknowledging their leaving on the top of their game. Precious heavy metals to roll with it as these deep feelings shall forever birth a wide smile to savor.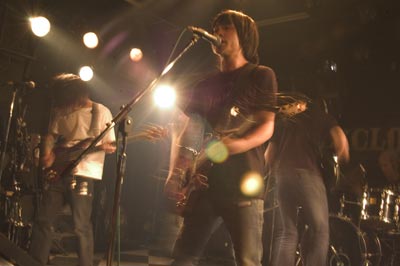 www.myspace.com/newstartingover
www.myspace.com/versusthenight