Man Push Cart:


An Existential Bagel (and Coffee)
By: Arnav Sheth
---
Ahmad is a sad, young man. Once a budding rock star with a hit album in 1995, he immigrated with his wife and son to the US. Somehow, he began selling bagels and coffee from a pushcart in midtown Manhattan. And then his wife died. Fast-forward a year later: His mother-in-law blames Ahmad for his wife's death and refuses to let him see her son. Consequently, Ahmad ends up losing his fame, his wife and his son.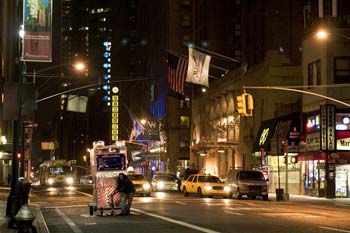 This is the point at which we enter Iranian-American filmmaker Ramin Bahrani's second full-length feature, the bittersweet Man Push Cart. Shot in documentary-style, inclusive of the harsh headlights and ubiquitous traffic sounds that are the streets of New York, we observe the life of Ahmad (played by Ahmad Razvi). He commutes every day well before sunrise, from his Brooklyn hovel to a pushcart storage facility in midtown Manhattan. He picks up his cart, and physically drags it to his spot, several blocks away. With an almost orchestral cadence, he fills the industrial-size coffee filter, prepares and piles paper cups with tea bags, and arranges bagels and doughnuts in the tiny display window of his cart. This rhythm of his daily grind punctuates the film periodically. In fact, it is the one thing that grounds the audience. No matter what happens through the film, we always know that Ahmad will return to his cart and the comforting beat of his diurnal pulse.
Ahmad feeds the pigeons, he picks up stray kittens, he despairs the loss of his wife and his son, and he hopes to buy an apartment for him and his son to live in. He is human enough for us to identify with, but distant enough so that he exists in the nether regions of humanity. We see him persistently shrugging off any opportunity he might have to enter the mainstream. When recognized by a fellow Pakistani, Mohammad (Charles Arturo Sandoval), he barely acknowledges the praise ("He was the Bono of Lahore") given to him for his former career as a musician. When Mohammad tries to help him out of his grueling life, by getting him a job in a nightclub, Ahmad tries it for a short period (what seems like an hour, or less) and quits. Mohammad gives him odd jobs around the house for extra cash, but they remain unfinished. Ahmad meets Noemi (the uplifting Leticia Dolera) at a nearby newsstand from where he buys his cigarettes, and although she takes an interest in him giving him an opportunity to escape his loneliness, he pushes her away. And the stray kitten that he finds and adopts - a symbol of his lost son, perhaps - he inadvertently ends up feeding it milk instead of water and gets it sick. So what makes this man want to continue in his life of sheer hardship? Who is Ahmad?
The movie reveals few details about Ahmad and even those are fleeting and gathered through indirect references throughout the movie. There is little or no dialogue and a bulk of the movie consists of shots of Ahmad dragging his cart down Avenue of the Americas. We don't know how Ahmad lost his wife, we don't know what caused his mother-in-law to blame him and consequently lose his son and we don't know what made him (or forced him to) give up his career as a famous musician. But all that is irrelevant, Bahrani seems to say. The point of the movie is not the intricate details of Ahmad's past. The point is what Ahmad is now. And, as Ahmad himself says, "I'm just a Pakistani who sells coffee and doughnuts." Indeed, that's all Ahmad is. No more, no less.
With clear allusions to Camus' The Myth of Sisyphus, highlighting the absurdity of our everyday Sisyphean existence, Bahrani creates a bittersweet drama that tells the story of a man who wants to be anonymous. This is a man who has seen fame and has probably come close to fortune, but has abandoned it. It is a riches-to-rags story of someone who is happy to exist on the fringes of society. The movie exposes us to what can arguably be the worst possible circumstances for a man to endure. But like De Sica's The Bicycle Thief, it also shows us that life, when stripped of its superficial aspects, is not much at all, but is enough for us to be happy. This independent film comes highly recommended.